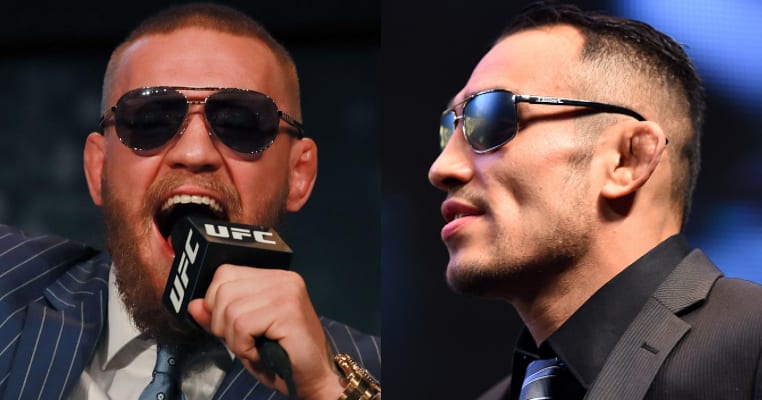 With his win against Kevin Lee last weekend to claim the UFC's interim lightweight title, Tony Ferguson has gone a long way to clearing a path to a title shot against Conor McGregor. 
Ferguson, the owner of 10 straight wins inside the Octagon, defeated Lee via third round triangle choke inside the T-Mobile Arena in Las Vegas in the main event of UFC 216 and wasted no time in calling out the Irishman in his post fight interview with Joe Rogan.
As impressive as Ferguson's performance was — and indeed his run of consecutive victories — some analysts are predicting a tough night for 'El Cucuy' if he is granted his wish of entering a UFC cage opposite McGregor.
One of these is UFC light heavyweight champion Daniel Cormier.
Speaking to the Talk and Talker podcast (as reported by Bloody Elbow) Cormier said that, as good as Ferguson is, he would likely struggle against the laser-accurate McGregor.
"I think he's really good. I think his cardio and pace are fantastic. I believe he makes some mistakes that would really cost him against Conor," Cormier said.
"Oh my goodness, do you see how high he's holding his chin up when he's throwing punches. You do that against McGregor, you're getting sniped. You're getting sniped!"
Kevin Lee had some success on the feet against Ferguson at UFC 216, particularly early in the fight, and Cormier maintains that if Ferguson makes a similarly slow start against McGregor then it could well lead to an early end to the contest.
"When Conor hits you with a clean shot, it doesn't affect people like most people's big shots affect people. It sends you fucking skating on ice. It turns you into a baby deer, when they can't stand up and they're fucking shaking and shit.
"You just can't let him hit you like that, but I think because of the way Tony fights, he kinda hangs his chin up there. That'll make it so dangerous for him because McGregor is so accurate, so fast."
Comments
comments