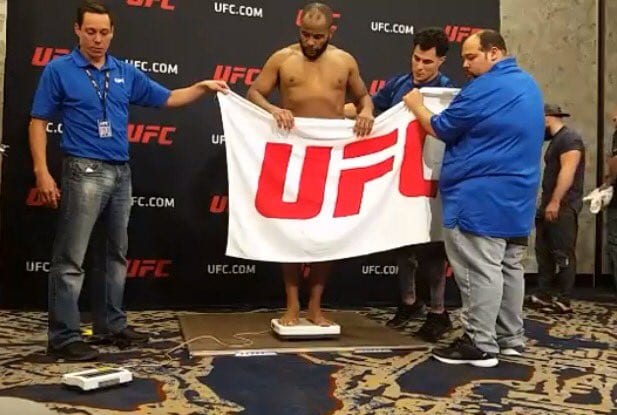 At the UFC 210 early morning weigh-in's, the UFC narrowly avoided disaster, as light heavyweight champion Daniel Cormier required two attempts to make weight. 
That doesn't exactly tell the whole story however. 
Cormier initially hit the scales at 206.2-pounds, meaning he had missed weight which would have likely caused his bout with Anthony 'Rumble' Johnson to become a non-title affair.
But, in a first for these early morning weigh-ins, the New York State Athletic Commission allowed Cormier a second attempt, and after leaving the room and returning just moments later, the champion suddenly had lost the extra pound and a half to weigh 205-lbs. 
The question now becomes: how did Daniel Cormier shed the extra weight in a matter of moments?
The controversy has ratcheted up another notch, as it appears Cormier was pushing down on towels (provided to hide his decency) in what could be seen as an attempt to disperse his weight slightly — although the head of the NYSAC has denied that Cormier was doing such a thing. 
It's worth noting too, that since the implementation of these early morning weigh-ins, fighters have been unable to hit the scales a second time. The NYSAC have since said that they do allow fighters in the main event a two hour grace period. This was previously unknown.
While fans (and no doubt the UFC) are happy that their scheduled main event will take place tomorrow night, and that they've narrowly avoided yet another weight related disaster (UFC 209 anyone?), it's a moment of contention that could have been avoided.
It also adds fuel to the repeated scrutiny the NYSAC have received with every event, as the commission struggles along with the newly legalized mixed martial arts.
Comments
comments