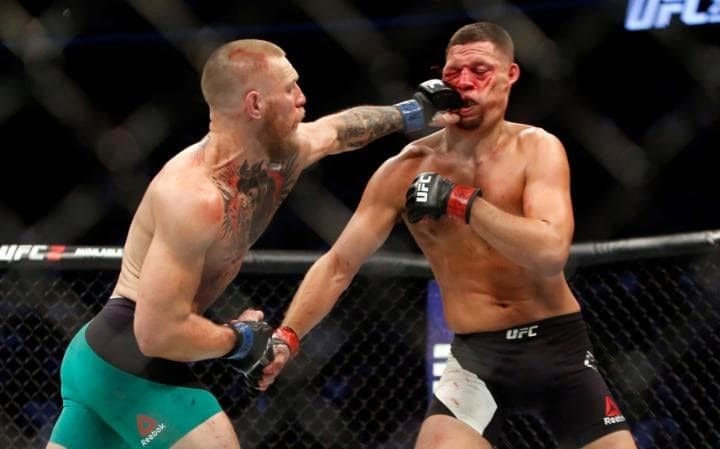 If there's one thing that's good in the fight game, it is to have options.
Ahead of his setting foot on the UFC canvas for the first time in a year next weekend, Conor McGregor sees himself in the first few days of a year which can present endless opportunities — and one of those is the possibility of a third fight with Nate Diaz.
Earlier this week, UFC president Dana White told TheMacLife that he was working on a fight for Diaz right now in what would be his return to the division for the first time in five years.
"We're working on a Nate Diaz fight right now, and it's not Tony [Ferguson]," White said. "But if we get it done, I think you're going to like it. [At] lightweight … Let's see if we can get this fight done, but it would put him in a really good position if he won the fight and the guy who he could potentially be fighting, I think it's a great fight for him too."
And this is something that has piqued McGregor's interest.
"There are treasure chests that get presented to me," McGregor explained to Oscar Willis of TheMacLife. "We've got world titles in boxing now, I hear Dana talking on TheMacLife interview about Nate Diaz coming back down to lightweight, I'd love to compete about Diaz. We will compete again but it if happens at lightweight for a title that would be something special. There's many great options in the works and let's see what happens.
"I think if he's going to come down to 155, he should come down for me to be honest with you. Nate's a warrior, Nate's a go-er, Nate shows up, steps up, and fights… It's not necessary I don't feel, to have him fight a 155-er, against another contender.
"I think it should be me and Nate. If he's going do 155, we could possibly do that for the belt. If not, I'll probably just fight at 170-pounds again."

Comments
comments