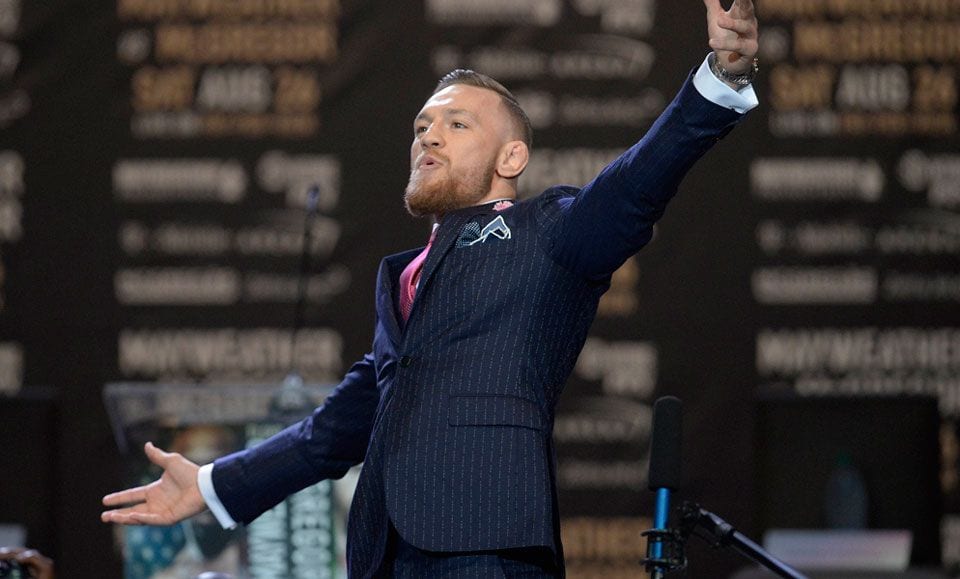 Conor McGregor and Stephen Espinoza have something of a rocky history.
In the lead up to the McGregor vs. Floyd Mayweather mega-fight last year, the tow infamously clashed during pre-fight preparations. When McGregor's microphone was cut during the first leg of the multi-city media tour, the Irishman took an opportunity at the next stop to publicly label Espinoza a 'fucking weasel'.
Espinoza, unsurprisingly, wasn't impressed.
Now, in the wake of some comments made by UFC president Dana White yesterday, another leg has been added to the feud.
In an interview with Yahoo Sports, White revealed he 'despises those fucking guys' at Showtime, and had doubts about the legitimacy of their published numbers of the McGregor-Mayweather pay-per-view buys.
"Think about this — and I don't give a shit about Showtimes full of shit press release they put out — [McGregor – Mayweather is] the biggest fight ever in combat sports history," White said. "The thing did over 6.7 million buys, and if the service didn't drop, we would have gotten closer to 7 million. … The way that they handled that press release and what they did? I didn't trust them before, and now I despise those fucking guys. The Showtime guys, I'll never work with them again. Ever."
The dispute comes over which territories should be involved in the number counting. Showtime's estimation of 4.3 million buys has the event coming behind Mayweather vs. Manny Pacquiao. White believes there is far more to the event than the figure Showtime suggests.
Today on social media, Espinoza responded to the comments made by White, stating that the UFC president was upset by Showtime 'telling the truth'.
Sounds like he's upset because we committed the cardinal sin of telling the truth (when we released the accurate total for N. American PPV buys on MayMac).

Strange that telling the truth, in a press release vetted by all parties in advance, is something to be "despised" for. https://t.co/rFxKXz0Bjz

— Stephen Espinoza (@StephenEspinoza) January 5, 2018
Shortly after, McGregor himself entered the fray, re-iterating his weasel jibe and contesting that the North American numbers were irrelevant when considering the global figures.
Shut your weasel mouth. Who gives a fuck about the North American numbers when we are the GLOBAL KINGS you shmuck. WORLDWIDE. No.1! https://t.co/tq5Gj1Os7Y

— Conor McGregor (@TheNotoriousMMA) January 5, 2018
Espinoza shot back that it in fact didn't do such a thing, although didn't name which event did.
According to Dave Meltzer, a trusted source when it comes to pay-per-view revenue, Mayweather vs. Pacquiao (the only likely contender to McGregor vs. Mayweather) is believed to have reached 5.5 million buys worldwide. McGregor vs. Mayweather is widely reported to have achieved over 6 million when considering global purchases.
Comments
comments