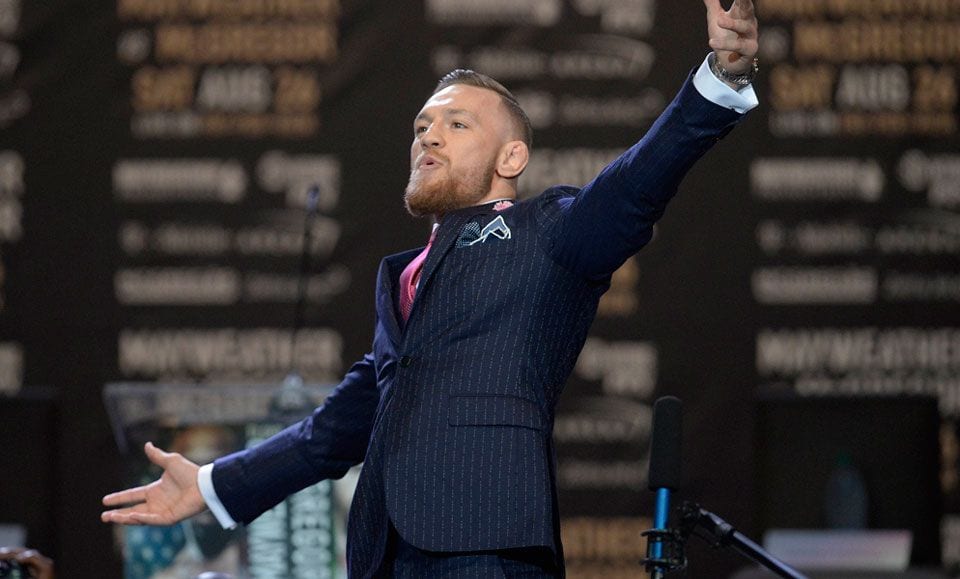 It's been said time and time again but still bears repeating. Conor McGregor loves options. And it's just as well, because coming off his boxing contest against Floyd Mayweather, the UFC lightweight champion has more available to him than ever before. 
Tonight in Glasgow, McGregor spoke for the first time since the Mayweather contest, appearing at 'An Evening with Conor McGregor' event where he was interviewed by Caroline Pearce. Naturally — particularly with an interim lightweight title fight next weekend — all were curious as to who the Irishman touted as his next potential opponent.
His answer? Anyone who proves themselves worthy.
"I'm sitting on a loss in my mind, so I'm just seeing what options are there," McGregor said (H/T to Peter Carroll of MMAFighting). "An option; there's an interim belt on the line right now. That's an option. Of course the Nate Diaz trilogy fight is there. Maybe one of these boxing guys… maybe Malignaggi would come over and do an MMA bout… or Floyd, maybe I could entice Floyd back.
"We could either do a rematch in boxing, or like he said originally, we'll do an MMA fight next. They are the options that are on the table for me right now."
Currently, the most obvious candidate appears to be Nate Diaz. The Stockton native is currently one for one in bouts against McGregor, and their second contest was one of the best fights in history. Combine that with an already legendary rivalry, and a rubber match could easily draw huge numbers. Indeed, it's already speculated that any third meeting between the two would be the biggest mixed martial arts fight of all time.
But while Diaz appears to be in the drivers seat, McGregor isn't ignoring the two men — Tony Ferguson and Kevin Lee — who fight for the interim lightweight title in Las Vegas next Saturday. While McGregor doesn't necessarily seem to be sold on either man, he's grateful that there will be a contest to potentially provide him with another name to choose from.
"I'm happy they're fighting," McGregor said of Ferguson and Lee. "This is what I wanted because they're all bums at the end of the day make no mistake about that. I'm just happy they're fighting. I just want to see them compete. Too many of them pull out right at the wire and we're still not at this fight yet, so I'm just going to pray that this one goes ahead. Of course Nate is still there waiting, but he'll be left waiting until we figure something out.
"I'm just going to put a few options out there and see what bounces back. It's got to excite me, let me see what these two fools do this weekend. We'll see what the energy is like."
Not that he stopped naming names there.
Before he stepped through the ropes against Mayweather, there had been some talk — enhanced by UFC president Dana White — that McGregor was interested in potentially travelling to Russia to meet Khabib Nurmagomedov. Tonight in Glasgow, he acknowledged there was still some interest in that idea, as well as mentioning new lightweight contender Justin Gaethje as another dark horse.
"Again, [Khabib is] another option. That's definitely an option," McGregor said. "As I said earlier about the other two that are fighting, I'm just happy to see them fighting. There's also that Gaethje guy, he's fighting another guy that I fought for the title, Eddie Alvarez. I'm looking forward to seeing what happens there. He's an undefeated fighter and Eddie could come back.
"I just want to see them fight. They're talking about me fighting? I'm the one going into other peoples' domains and fighting. They're sitting on Twitter typing away and complaining. I'm in there trying to do it.
"Obviously, Khabib in Russia would be a great one. It would be a crazy one. We'll see what happens. I'll need to see him make weight though. There's no way I'm going over there and he's not making weight. I need assurance."
Of course, it could be an opponent outside of the lightweight division. Earlier this year, UFC legend Georges St-Pierre returned to the sport after several years away to become number one contender to Michael Bisping's middleweight championship. In nearly every interview, St-Pierre gave mention to a three fight plan in his head, making note that he wanted to evaluate the 'stock' of every fighter before agreeing to fight them so as he could make the most impact.
With McGregor undeniably the biggest name in combat sports at present, it seemed fair to think St-Pierre had the Irishman in mind.
And wouldn't you know it, McGregor could see it too — providing St-Pierre can get past Bisping.
"It's another money fight, even though he's been retired," McGregor said. "I don't know, I think he's going to get his assed whooped by Bisping. To be honest I think it's a mistake for him to step in at that weight after so long out."
Regardless of the names listed, there is one takeaway for McGregor fans. It might not be certain where, it might not be certain when, and it might not be certain against who — but it's certain that Conor McGregor isn't done yet.
Comments
comments