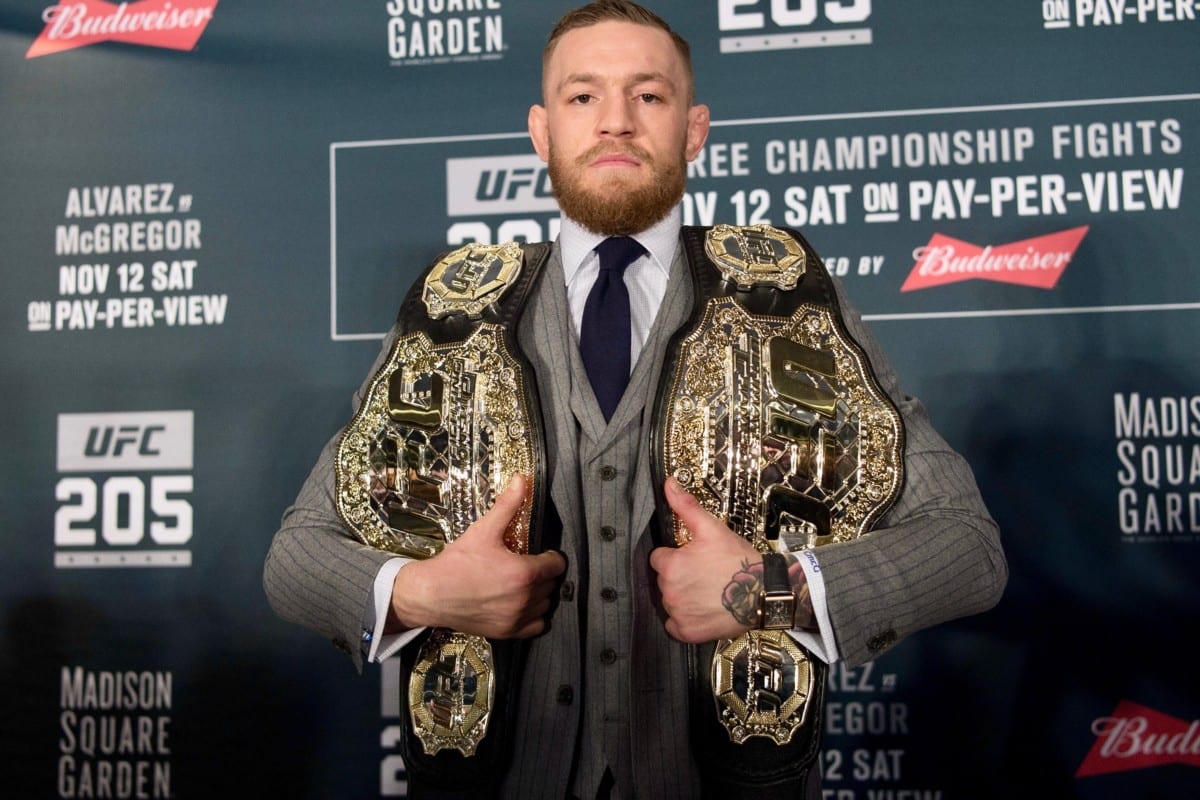 Throughout Conor McGregor's career in the UFC, no matter what victory he achieves or how high he reaches, there always appear to be critics.
When he first arose through the featherweight rankings, people suggested he hadn't faced an American wrestler, and then he fought Chad Mendes. After he faced Nate Diaz for the first time, people claimed McGregor didn't gave the heart to keep going when it got tough, until he survived a dangerous third round in the rematch to come back and win the fourth.
Now, as the current UFC lightweight champion, people are once again hitting the Irishman with unsavoury labels, claiming that he has no intentions to defend his 155-pound title. So once again, McGregor hears the critique, and feels inclined to put it to bed.
Speaking at 'An Evening with Conor McGregor event' in Glasgow yesterday, McGregor revealed that in his time away from mixed martial arts to face Floyd Mayweather in a boxing contest, he's warming up to the idea of returning to prove he's a fighting champion.
"Look, I've got the UFC title to defend and that means something to me. I will defend that world title," McGregor said (H/T to Peter Carroll of MMAFighting). "Nathan is there. He's trying to come in here and make all of these demands. If he starts pricing himself out of an event, I probably will defend against the person who wins this interim belt… or someone along that line to legitimise it again.
"I've already gone from the highest of the high in terms of a money fight. Now the question I always get is about defending the belt and legitimising the sport and the rankings. Maybe now it would be a good time for me to go and do that and shut that side up."
If that remains McGregor's goal, then the question remains: against who? Currently, a third fight with Diaz appears to be at the top of contention, with the two currently sharing victories against the other.
Next Saturday in Las Vegas, however, Kevin Lee and Tony Ferguson will fight for an interim lightweight title, with the winner potentially earning themselves a shot at McGregor afterwards. Some have suggested that McGregor wouldn't be interested in either man, as neither present a 'money fight' level of attraction.
According to the man himself, McGregor might be over the concept of money fights — particularly in light of the contest he just had.
"I've done the money fight," McGregor said. "I've done the pinnacle of a money fight – I fought for the money belt – the WBC money belt it was called. In my head now, I'm very interested in seeing this fight this weekend and to see how the lightweight title picture pans out and to go in and correct that whole situation. That's where my thoughts are.
"I also have history with Nate. It's 1-1 and that has to happen. It will happen. The more I spend time away from it, I think I've already done all of the money fights. Now, to legitimize a title and to bring it back, I could potentially bring it back.
"That's a little bit exciting for me. I'll see how this whole title picture plays out and we'll go from there."
Comments
comments