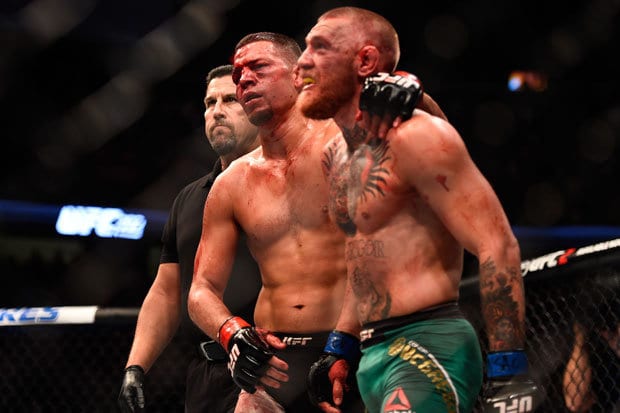 It wasn't just the fans who were happy to see Nate Diaz return with a victory last Saturday at UFC 241.
Conor McGregor, the man who traded wins with Diaz in 2016, was watching his old rival with a keen eye, it seems. Diaz defeated Anthony Pettis via unanimous decision, and came close to finishing the former lightweight champion on multiple occasions.
According to McGregor, it was an inspirational performance.
"Congrats on the win this weekend Nate, it was motivating to see it for my own comeback," McGregor wrote on Instagram. "I don't blame you not mentioning me for the trilogy bout post fight, you know what I'm like when I get going. Vicious. I loved the round 3 style from round 1 that you implemented. It's what I was hoping you would implement for this bout and was glad to see you do it. I'll be prepared for it when we go again. If we go again. If not, respect always. A war for the ages. No bitch talk. Just real shit."
McGregor hasn't been in the Octagon since UFC 229, but has been linked with multiple fighters, including Diaz, during his absence.
It's been reported the Irishman was in talks to fight in late July, only for a hand injury to sideline him for the rest of the year.
Comments
comments