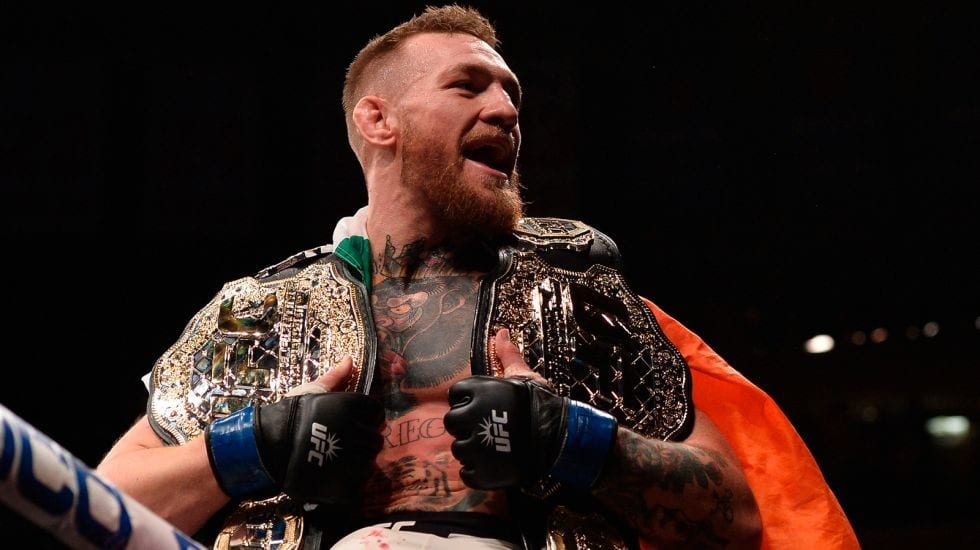 Conor McGregor might be dipping his toes into the world of boxing, but he is well aware of some duties back 'home'. 
Having readily admitted he's interested in returning to the UFC following his August 26 bout against Floyd Mayweather, McGregor remains the promotion's lightweight champion. He also remains the man who never lost his featherweight title inside the Octagon. Because of that, he'll consider himself the double weight world champion until proven otherwise.
"I mean, how can I not consider myself the UFC featherweight world champion and the UFC lightweight world champion?" McGregor said on a media conference call, Wednesday. "The current UFC featherweight world champion is Max Holloway, a man who I dismantled, and the former was Jose Aldo — I still reign supreme over that division. And then also, the 155-pound division, I know there's talks of an interim belt, I'd only won that belt, and literally a month later there was an interim scheduled.
"But it is what it is, everyone knows I am the multiple-weight world champion of the UFC's featherweight division and lightweight division, and I look forward to going back and continuing where I left off."
While the Irishman appears more than game to head back to the world of unbridled combat sports, some remain skeptical, arguing that a win over Mayweather in ten days would lead only to a instant rematch between the two.
Ask McGregor, and who knows, maybe there's a happy medium. Pointing to Mayweather's claims during their promotional world tour last month that he would happily meet McGregor for the second time inside the UFC's cage, McGregor said during his call that it's a fight he'd be happy to grant — should Mayweather follow through with his words.
"If he would do that, he would have my respect," McGregor said. "Anyone who is willing to step into a game like that when their limitations are so short deserves respect, and that's at all levels, whether it's at club levels in a small hall or a big stadium filled full of fans, or any combat sport for that matter. But if he was to follow through with his word on that, then great, I'll be here to grant him his rematch.
"Maybe he can come over and after he gets his ass whooped, he can try and challenge for my lightweight belt."
Comments
comments