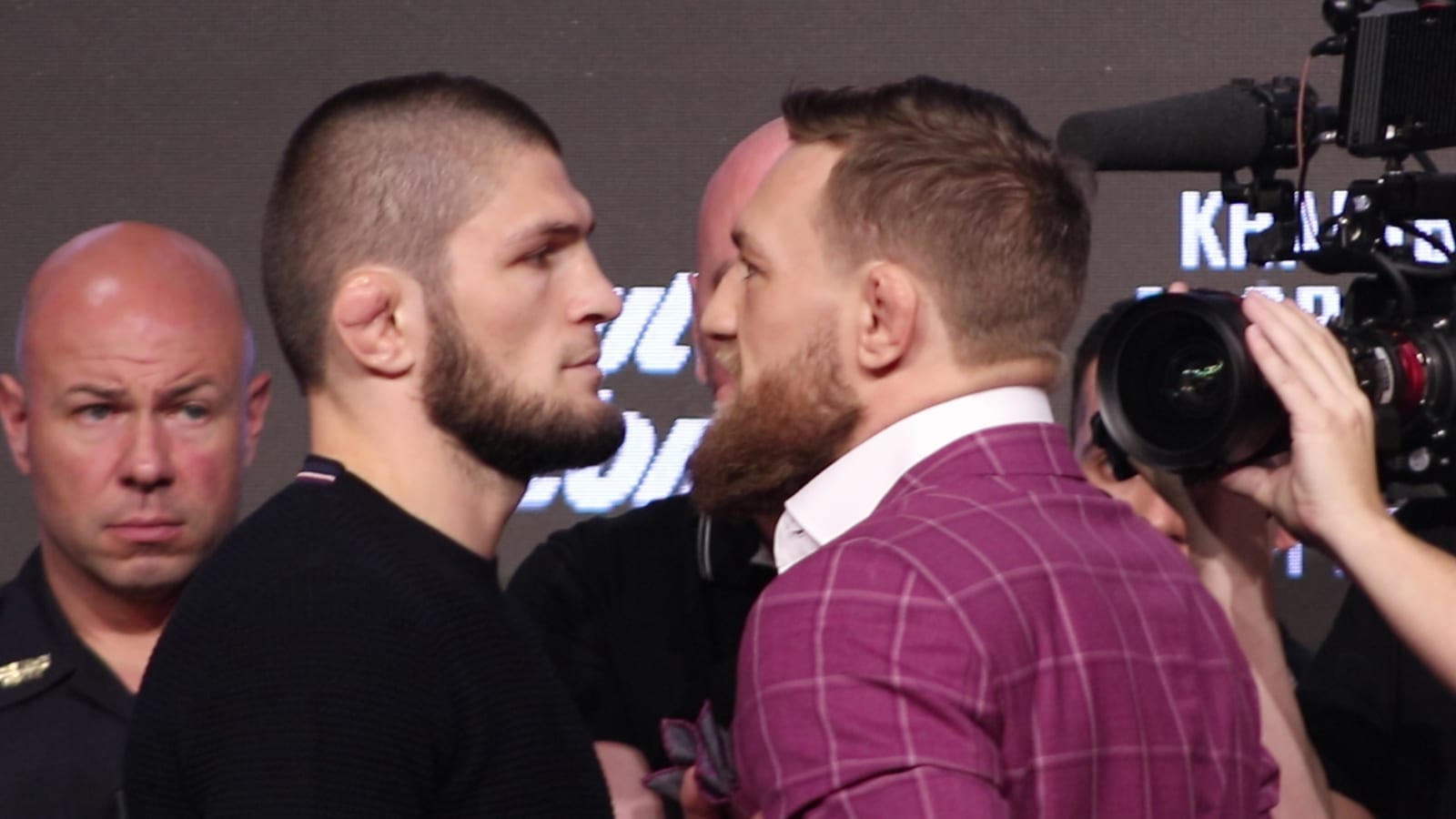 On Thursday afternoon in New York, Conor McGregor returned to a UFC hosted event with a pre-fight press conference for his UFC 229 contest with Khabib Nurmagomedov. And, despite two years away, the Irishman wasted no time in bringing the heat.
No sooner than he and Nurmagomedov were on the stage than McGregor started throwing verbal shots at the Russian, labeling him with a glass chin, and declaring himself the likely victor come fight night.
"Domination," McGregor said of the fight's outcome "His head bouncing off the canvas. All his pony talk is going to be fucking put on blast October 6th."
And, while Mystic Mac usually doesn't shy away from making specific predictions, but today he appeared more open as to how the contest might end.
"As long as it takes," McGregor said. "I believe, one [round]. He has a glass jaw. The Chechens, my Chechen friends, the soldiers, they told me that they had chicken jaws in Dagestan — and I believe them, because I know a glass jaw when I see one, and I've seen this man wobble many times. I've seen his brother sparked unconscious in another promotion. I know he is afraid of a smack, and if you're afraid of a smack off me, a smack will feel like a double-barrel shotgun.
"So, I believe inside the first, but I have been wrong before. I will be prepared for five rounds. You're looking at a fighting veteran. I've come through it all, I've been through it all. I've been on both sides of the world. I've been on the boxing side and I've been on this side. I'm ready for any occurrence, but this man is a glass-jawed bum, and I'm going to shatter him — like that [bus window] glass was shattered, may God have mercy on its soul — on October 6th."
Some have suggested McGregor and Nurmagomedov match up with complete opposite skill sets. According to McGregor himself, such suggestions are irrelevant — his training will inevitably result in a victory.
"We are ready for war," he said. "We are ready for all outcomes, all situations, all scenarios. Supreme, supreme confidence you are looking at here, so we're going to go out and enjoy this contest on October 6th, because again, that's all I'm doing it for. Because I fucking love it. Don't have to do it otherwise. It's just because I love it. That's it."
Comments
comments