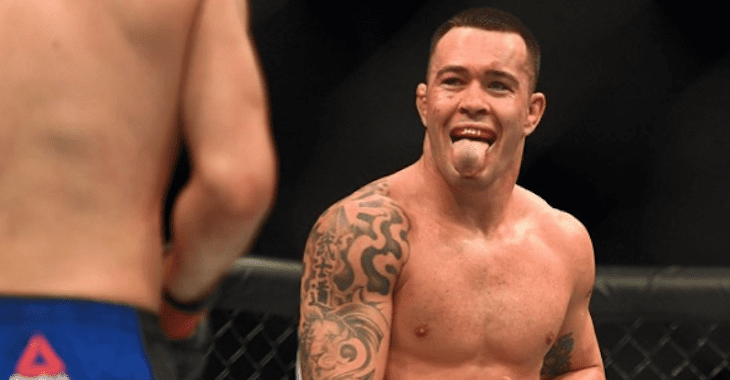 Colby Covington will be well and truly heading into hostile territory after inking a deal to fight Rafael Dos Anjos for the interim UFC welterweight title at UFC 224 in Brazil on May 12th.
News of the booking was confirmed by MMA Fighting after an initial report from BJPenn.com two weeks ago.
Covington, 8-1 in the UFC's welterweight frame, is far from a popular figure in Brazil. His most recent fight, a victory against Demian Maia in Sao Paulo last October, was punctuated by an aggressive tirade in his post-fight speech, in which he referred to the local fans as "filthy animals". In addition to that, Covington had a run-in with Brazilian former heavyweight champion Fabricio Werdum in Australia during which Werdum allegedly threw a boomerang at Covington.
Since defeating Maia, Covington has been one of several fighters at welterweight to campaign for a title shot against Tyron Woodley, though the champion has gone on record as saying that he has no interest in facing the Californian.
No matter, from Covington's perspective at least.
"You can call it an interim, but everyone knows Woodley ain't coming back when they put that belt around my waist," Covington said as quoted by MMA Fighting, "and they are paying me like it's a title fight."
Given his unpopularity in Brazil, Covington says that the UFC have laid on extra measures to ensure that he makes it to the bout unscathed.
"UFC has guaranteed my safety. Only security concern is gonna be when they lock RDA up and he has to stand across the cage from 170 pounds of raw American steel and sex appeal.
"May 12, I put all the super villains that you nerds read about in your comic books to shame," Covington added. "I'm taking over the world and RDA sure as hell can't stop me."
UFC 224 takes place in the Jeunesse Arena in Rio de Janeiro on May 12th next and will be headlined by a women's bantamweight title bout between Amanda Nunes and Raquel Pennington.
Comments
comments