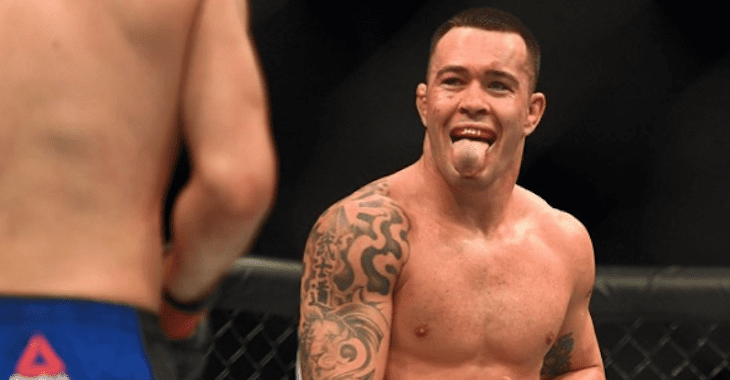 Colby Covington isn't too interested in fighting anyone not named Kamaru Usman or Jorge Masvidal.
The welterweight has been on the sidelines since defeating Tyron Woodley last year as he publicly clamours for a rematch with the 170-pound champion, Usman. While the UFC don't seem particularly thrilled about making that match-up at present, they did recently approach Covington with an offer to face Leon Edwards on short notice after his original opponent Khamzat Chimaev was ruled out of action.
That opportunity, particularly considering it didn't come with extra money, didn't entice Covington.
"There wasn't much talks," Covington said, speaking to Submission Radio. "I was busy balls-deep in Polyana Viana so to get me off the couch in three weeks notice to fight some Leon Scott guy, it was going to be a price tag. I wanted a little bit more than was in my contract. I just wasn't going to show up for a normal paycheck to fight that guy. For me to come up and show that up on short notice and fight that guy, you know, the way I fight guys, I redline it every time I fight. So, when I fight, you know you're getting a Ferrari that's coming forward, high octane, high energy, and he's coming to fight and bring the fight. So, if I want to fight at my best, I need a full training camp. So, that fight was never gonna happen unless the UFC was gonna pay for it to happen.
"They asked me and said, hey, what's it gonna take Colby, for your price? Because first off, let's be honest, why are we in this position? Because this guy, irrelevant Leon Scott was supposed to fight some kid named Sputnik. And, you know, Sputnik pulls out a couple of times, he doesn't want to fight, your hype job is down the drain. Sorry, UFC, your plan, it's all folded up now. Now it's all in shame. So, let's talk about why we got to that position. And once we get to that position, we're three weeks out.
"You want me to save your card? You want me to get off the couch when I'm hanging out with Polyana Viana every day, and you want me to show up and save the day and make the UFC great again on short notice? It's going to take a price tag. It's not gonna be the basic offer that's already in my contract. If you're gonna give me the basic offer, I'm gonna take a full training camp and I'm gonna take my time. I'm gonna fight when I want to fight, when my body's ready to fight. I'm always ready to fight. I strive on excellence and always being in shape and always ready to fight, but I also want to fight at peak performance. And there's peaks and valleys, and I know when to peak and how to have my body ready to peak at the right time. So, if I want to have my body peak at the right time, I need a full training camp."
–
Comments
comments