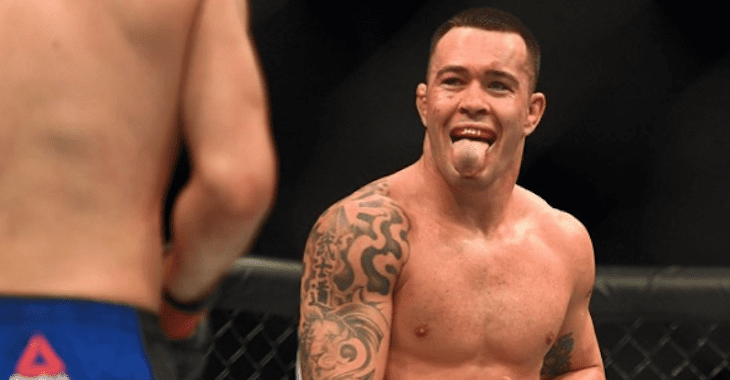 Colby Covington really seems to be embracing the role of the heel that he cultivated after defeating Demian Maia in Brazil last month.
The 13-1 NCAA Division I wrestling standout channeled his inner Chael Sonnen after defeating Maia, calling the Brazilian fans "dirty animals" in the wake of the bout — a move which was roundly criticised by Maia and other sections of the UFC roster.
Clearly not looking to ingratiate himself to many of his peers, Covington has let loose at former UFC light heavyweight champion Jon Jones in his latest tirade.
Covington and Jones lived together for two years from 2007 to 2009 at Iowa Central Community College where they both won junior national wrestling titles, but as he said in a recent interview with Submission Radio, Covington didn't relish the time he spent living in the same space as Jones.
"He was difficult as sh-t to live with. The guy was dirty, man, he stunk, he didn't shower, man," Covington remarked.. "The guy was just a mess, man. He was getting into partying and all that bad stuff back then. He was just going down the wrong path, but he always tried to act like a saint, 'oh, I'm into religion, I'm all about god,' this and that.
"He's just fooling all the fans, he needs to be exposed for the real person that he is, because he ain't this saint and good person like he tries to act like he is.
"I'm saying truths, I'm saying facts. I mean, I'm just speaking my mind," Covington added. "I didn't know I wasn't allowed to speak my mind in this world. I think I know him more than most people since I lived together with him for two years."
"The guy's a fake, man, just… his little f—-ng baby-faced tweets to Georges St-Pierre, it just got under my skin. He's just trying to act like a saint, 'oh, I'm praying for you this'. Shut up, man. Go do some more coke, go cheat on your wife some more, man. You're a piece of sh-t dirtbag."
Whatever you make of Covington's recent tirades, it seems to have increased his notoriety tenfold and placed him within touching distance of a title out with Tyron Woodley. Sticks and stones, eh?
Comments
comments