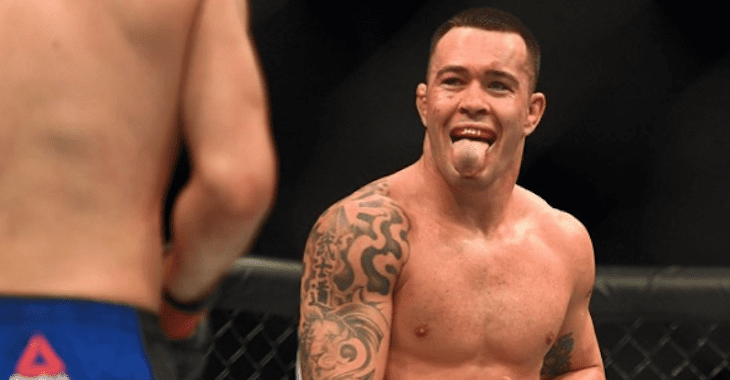 It's safe to say that Colby Covington upset a few Brazilians on Saturday night in Sao Paulo.
Covington had made headlines in the lead up to his co-main event with Demain Maia after repeatedly mocking Brazilian's and their home. After calling Sao Paulo a dump all week, Covington ramped his remarks up sufficiently more in his post-fight interview. Defeating Maia decisively, Covington took the microphone and bellowed insults at the crowd, referring to them as filthy animals.
After the promo, security ran Covington to the back as bottles and boos showered down. From there, Covington wasn't given an opportunity to go to the post-fight press conference and was taken straight to his hotel room. And, as he described on MMAFighting's The MMA Hour, Covington's night in Brazil was far from a relaxing trip.
"That was crazy, man," Covington said of his trip back to the hotel. "Getting out of the arena with all those security guards. They're all loaded just in case something happened. We went back on a special van, they put me in the bottom part of the hotel, I had to go to the negative levels and we went in through the negative levels, the guarded me up through the elevator, they wouldn't let anyone else on the elevator.
"I'm in my room on lockdown and I wasn't supposed to leave until they came and got me to go to the airport. I think they stayed up all night on my floor, four different security guards all night on my floor."
"I was a little nervous, I can't lie," he continued. "There was someone who knocked on my door, we had no idea who it was. They were like 'I don't speak good English but I'm a journalist', and my dad's freaking out looking through the peephole like 'oh my God, I think someone's here to murder you, Colby'."
To make matters even more nail-biting, Colby's flight out of the country wasn't until 10:30 in the following evening, leaving him in a hotel room for an entire day waiting. To make sure his leaving went swimmingly, Covington even adopted camouflage at the airport.
"I was in disguise," Covington said. "I had glasses, I had a hat and I had a hoodie on. I was walking through the airport with no branded clothes, keeping my head down, making sure no UFC backpack, nothing like that."
And just in case you were wondering: no, he still doesn't feel bad.
"The way they treat people over there — you can't do that in Canada, Ariel. You can't do that in the USA. You won't hear a whole crowd doing stuff like that, the things they do. So, I don't think I crossed any line.
"America."
—
Comments
comments