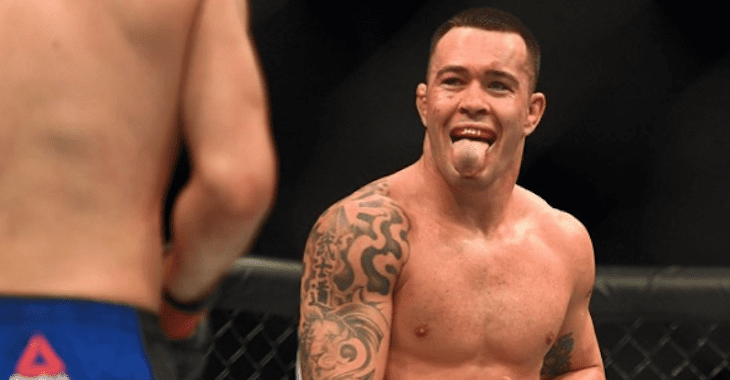 Very little has been heard of Colby Covington since he came up short in a thrilling welterweight title fight with Kamaru Usman late last year but the notoriously brash fighter broke his silence when he appeared on Ariel Helwani's MMA Show on ESPN on Monday, and it was clear that the former title challenger had some things to get off his chest.
As we previously noted, Covington was heavily critical of referee Marc Goddard for his officiating in the contest in which he was beaten by late TKO by the champion Usman, allegedly breaking his jaw in the process. The manner of the defeat — which came in a fight in which both men deserve legitimate credit for the performances — and the broken jaw which allegedly occurred midway through it had left a trail of Covington's foes revelling in the loss.
One such person was rapper and movie star 50 Cent who took to social media in the aftermath of the fight to savage Covington, referring to the fighter as a 'racist'.
Covington came under fire several times last year for statements related to his support of US President Donald Trump.
Covington took his opportunity to shoot back on Helwani's show, saying: "Does my jaw look broken? I've been smiling. I've been with all my mamacitas, you know? The only person that's gotten their jaw wired shut is 50 Cent. If you want to talk about people who've gotten their jaw wired shut, let's talk about 50 Cent. He says he got shot nine times, if you got shot one time by me you wouldn't get back up. '50 Cent' is a little bitch."
He didn't stop there. Perhaps emboldened by the recent spate of celebrity boxing matches which have taken over the YouTube world, Covington said that he would take on 50 Cent in a similar arena — and would even tie one hand behind his back if it comes to pass.
"He came out after the fight talking mad crap on me. Talking all this smack all this MAGA talk, putting all these Instagram posts up," he said. "So I am ready to do a celebrity boxing match. I will tie one hand behind my back and I will fight '50 Cent' and put up a million of my dollars to fight him in a celebrity boxing match. And I am going to give all the money to the troops because I love the troops so much."
Comments
comments