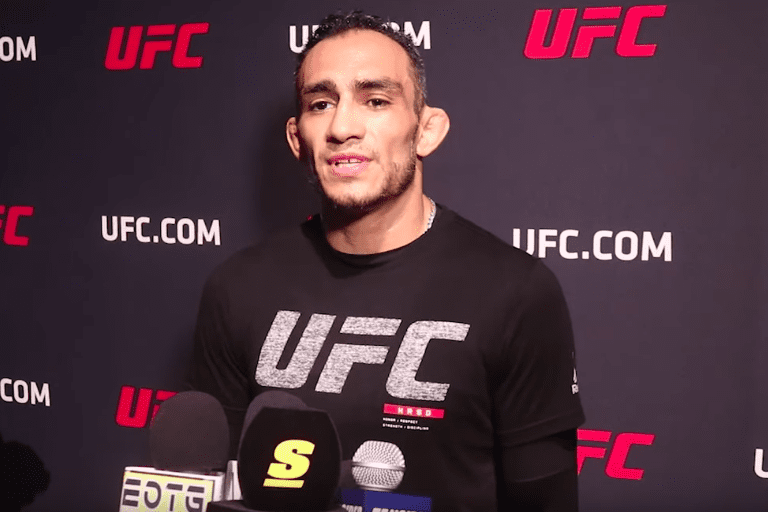 When the UFC made moves to implement an interim lightweight title during Khabib Nurmagomedov's self-inflicted hiatus, conventional wisdom suggested that one of Max Holloway, the featherweight champion who was casting glances towards the 155-pound frame, and Tony Ferguson, holder of one of the longest win streaks in the organisation would be the fight.
Instead, when all was said and done, Dustin Poirier emerged from the pack to defeat Holloway in April and he now stands alone as the number one contender. Ferguson, though, became a story unto his own when he turned down the fight around the same time as some concerning headlines were being written about the Californian.
But speaking to the media, including The Mac Life, this week in Chicago ahead of his three-round fight with Donald 'Cowboy' Cerrone at UFC 238 Ferguson was keen to correct the narrative.
"I was coached to say 'no,'" Ferguson said of the offer to face Holloway (transcript via MMA Fighting). "I'll be real with you guys, when have you guys ever known me to say 'no' to a fight," Ferguson said. "Literally, this is a round robin tournament. It's not one of those bracket final four ones anymore.
"Seriously, straight up, you can try your best to win the title. I won the title. It got taken from me, a guy like Robert Whittaker got hurt, same f*ckin' way. There's politics in that shit. I got an Ultimate Fighter trophy, which hardly any of these dudes that are holding a belt have. I've got a title belt."
–
Comments
comments