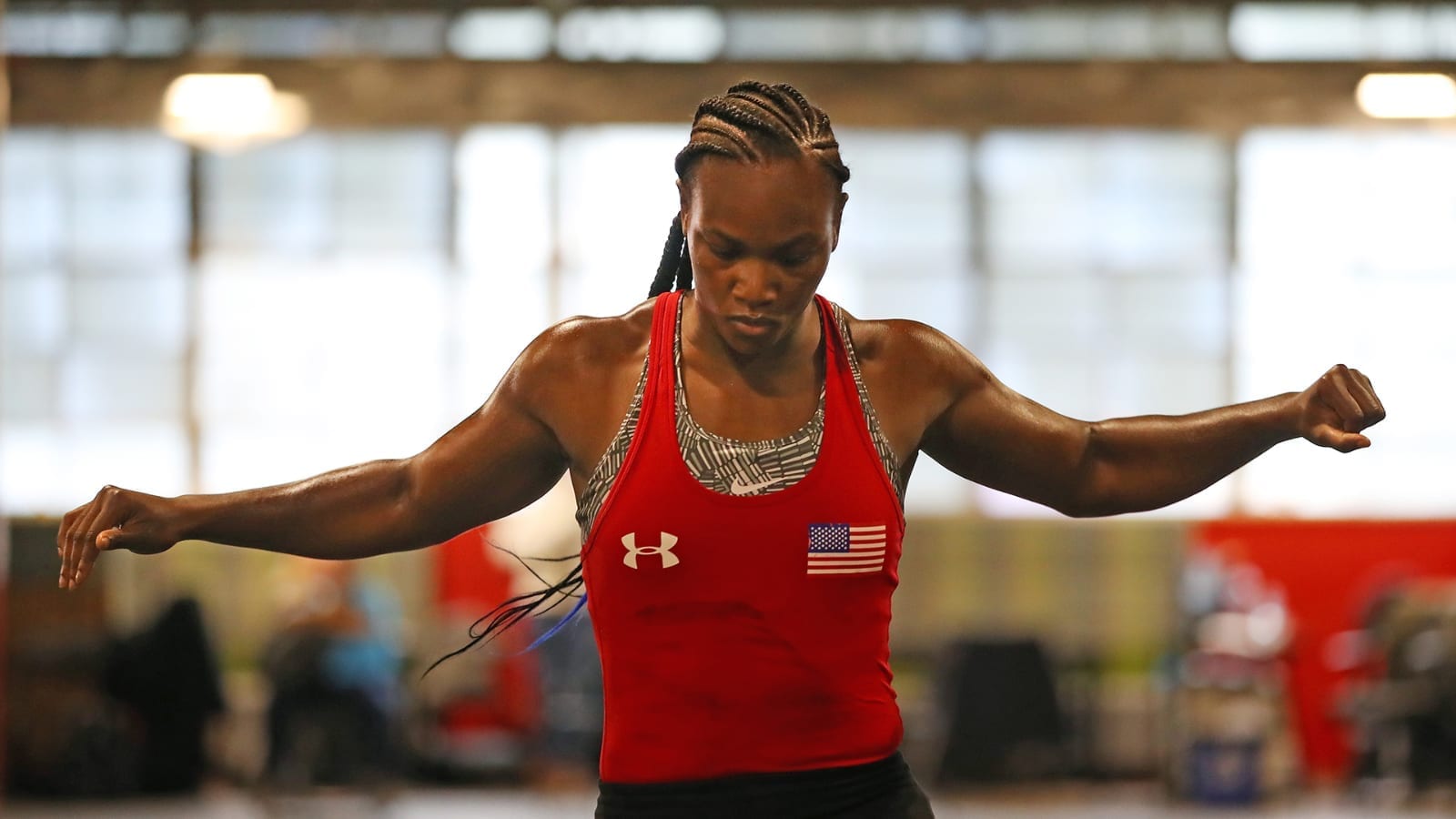 Claressa Shields can already boast two Olympic gold medals, as well as being a two-weight world champion in the professional boxing ranks, but she could indeed be set for a pursuit of further gold in mixed martial arts after her management confirmed their fighter's interest in a crossover UFC bout with champion Amanda Nunes. 
The 24-year-old will pursue a third boxing championship this weekend when she fights Ivana Habazin in Atlantic City but her title ambitions appear to extend well beyond the boxing ring. Shields attended the recent world title fight between Amanda Nunes and Germaine de Randamie, telling reporters at the event of her desire to compete in mixed martial arts — something she is serious about, according to her representatives.
"Claressa wants to be a two-sport star," Dmitry Salita told MMA Fighting. "In between fights, she did do some training, wrestling training, and some UFC-type training. Obviously, boxing is her domain, but Claressa has said she'd do a fight in boxing and a fight in the UFC with Amanda.
"It would obviously take time for Claressa to develop and get better in that sport. I think what makes it so attractive is that Amanda Nunes is a striker. Most of her significant wins have been because of her striking ability, her power and her precision, and her ability to figure out situations and land the big power punch. That's why this is such an intriguing matchup."
Shields wouldn't be the first boxer to transition to mixed martial arts but, per Salita at least, she would be the best.
"Claressa is a two-time Olympic gold medalist," Salita said. "She's the undisputed middleweight world champion, unified undisputed middleweight world champion. She's going to fight for a third division world title against Ivana Habazin on Showtime, and if she wins, she's going to be the fastest fighter in the history of the sport — man or woman — to win three division titles in under 11 fights.
"So obviously, Claressa takes her career very seriously. She's very dedicated to her training. She's dedicated to being the best. She is very serious is about being undefeated in the boxing ring, and when the time comes in the Octagon, or whatever domain the MMA fights happen in, she wants to be a two-sport star."
UFC president Dana White has indicated that there is interest in his side in pursuing a deal with Shields, which Salita says makes all parties interested in what would be a fascinating clash of styles.
"She obviously wants the fight, and I think Amanda wants the fight as well," Salita explains.  "The way it takes place and under what rules is still to be discussed. Boxing is where we want to do it.
"I don't think anything like this has ever happened before," Salita said. "I think it would be great for the sporting community, all together. Obviously, it would be tremendous exposure and paydays for both fighters, but also the effect of having such a big event with two female stars in combat sports would have a positive effect on the business of women's combat sports and that goes into boxing and UFC."
Comments
comments