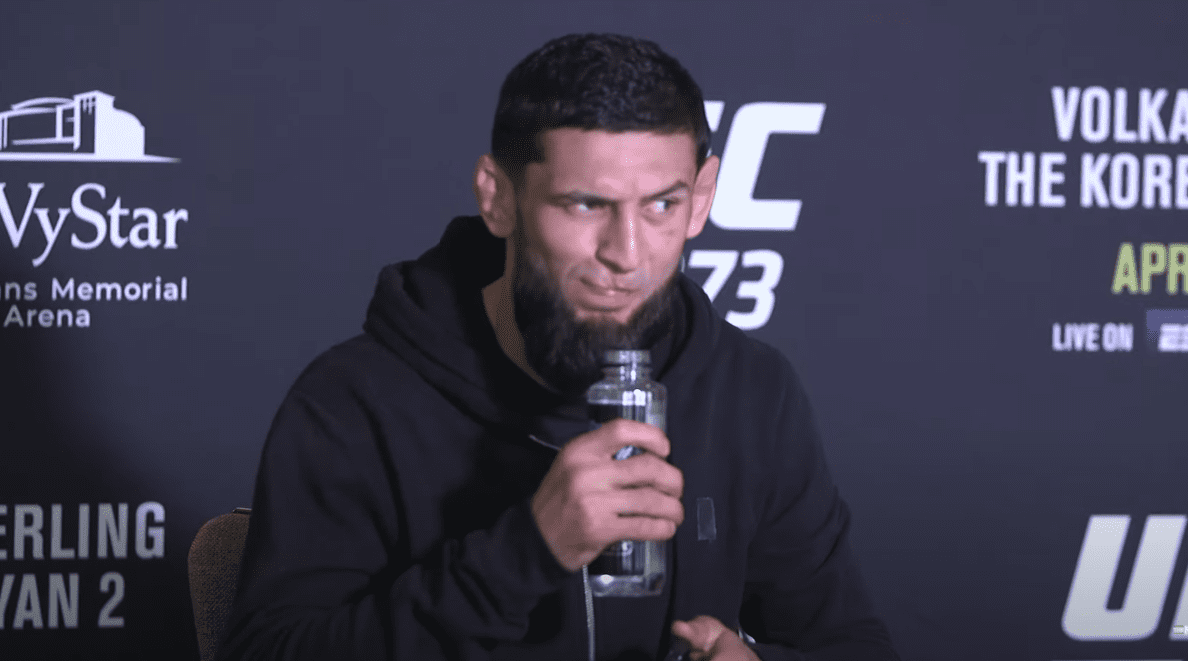 As he stands on the verge of his fifth fight in the UFC, it is clear that Khamzat Chimaev is of the opinion that he has no equal in the UFC's welterweight division.
'Borz' takes on what will likely be his sternest test this weekend in Jacksonville against UFC veteran Gilbert Burns — but be it Burns, Nate Diaz, Leon Edwards, Colby Covington and even champion Kamaru Usman, Chimaev says he would breeze past all of them.
"I'm already the champ," Chimaev said to reporters, including The Mac Life, at the UFC 273 media day. "That guy [Usman] doesn't want to fight me. He goes out to do the surgery and then he wants to go do the boxing somewhere. He can fix his arm and then go do the boxing, I don't know. The other guy [Leon Edwards], he didn't fight somebody in the top 10.
"They always find some excuse. I am already the champ. People know that."
Futhermore, Chimaev also states that Usman and Edwards, the two men who will fight in the next welterweight title bout, are both beneath him. Not just that, he says he would beat them on the same night. "If they do that fight [between Usman and Edwards]— [does] somebody care about that fight?
"I don't think so. Dana White wants to make that fight. Leon Edwards, nobody knows that guy and Usman, he's the same. Nobody wants to see that guy. Everybody wants to see me there and smash them both. If they give me both guys the same night, I'm going to smash them both."
Chimaev added that Edwards almost lost his last fight to "that skinny guy" [Nate Diaz]: "It was five rounds and last round he gets tired? If he gets tired against Diaz, what am I going to do with this guy? He's going to get tired after the first minute. I'm going to knock him out. This guy is not my level. People don't want to see that guy."
Perhaps the sternest warning, though, was issued to Colby Covington, with Chimaev referencing the recent street brawl he had with Jorge Masvidal after which Covington called the police.
"I will be happy if they do that [fight with Colby Covington] but I don't think so," he said. "That guy [doesn't] want to fight me. He's going to go to the cops. He's going to go to the cops, call the cops. Dana White will be in jail if they make that fight. He talks too much in the media and then when he sees the face-to-face, he goes to the cops. He's not that guy. To me, if I'm honest, the UFC has to kick him out. He's a b****."
Comments
comments