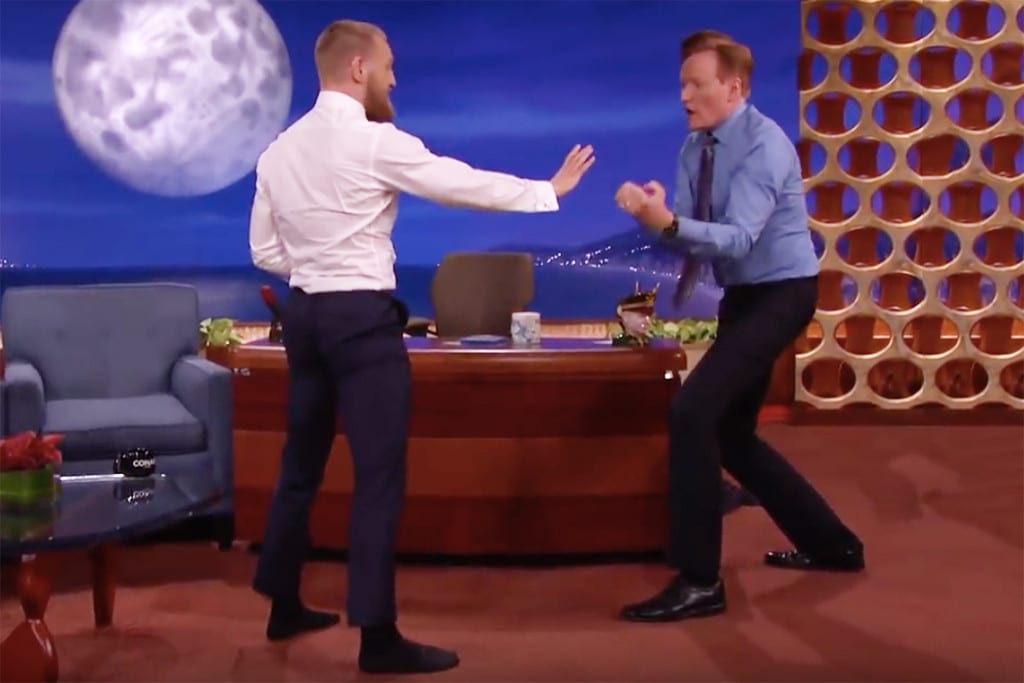 Conor McGregor will have to face off with late night host Conan O'Brien if he wants the television star's UFC shares, O'Brien has said of the Irishman.
O'Brien, who is of Irish extraction, invested in the UFC along with a group of other investors including Mark Wahlberg, Tom Brady, Ben Affleck and more recently but McGregor has been vocal in recent years about the slice of the company he says he has earned throughout his record-breaking, six-year tenure with the organisation.
"Who owns the company now?" McGregor said in the wake of his lightweight title victory against Eddie Alvarez in November 2017. " People have shares in the company… celebrities. Conan O'Brien owns shares of the UFC nowadays. Where's my share? Where's my equity?
"I want what I deserve, what I've earned. They've got to come talk to me now. I've got both belts, a chunk of money and a little family on the way. You want me to stick around and keep doing what I'm doing, let's talk, but I want ownership now. I want equal share, I want what I deserve – what I've earned."
Well, O'Brien has a remedy to the situation.
"I will fight him for his [share]," Conan said when approached by TMZ ."If he can take me in the Octagon!"
An offer such as this is very much in the Irishman's language, and he responded on Twitter saying that not only would he 'whoop' O'Brien, he would reserve the same outcome for Hollywood star Mark Wahlberg.
Challenge accepted Conan!
I'll whoop you and Walhberg in the same night.
Double shares for the Double Champ! https://t.co/lFvVEb41Eh

— Conor McGregor (@TheNotoriousMMA) May 2, 2019
"Challenge accepted Conan!" McGregor replied.  "I'll whoop you and Walhberg in the same night. Double shares for the Double Champ!"
McGregor has been a landmark star during his time with the UFC, winning titles in the featherweight and lightweight divisions and becoming just one of a handful of fighters to win fights in three separate weight classes. He was the first fighter in UFC history to hold two world titles simultaneously and, per Tapology, headlined the four most lucrative PPV events in the quarter century history of the UFC.
The UFC was sold to Endeavor (formerly WME-IMG) in the summer of 2017 for a reported $4.2 billion, with the Irishman's star status widely credited with making the UFC one of the most financially successful franchises in all of sports.
Comments
comments