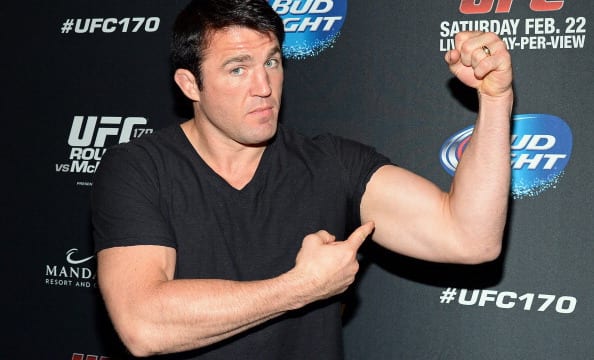 Last week, it was revealed that Bellator MMA would be hosting an eight man tournament over the course of 2018 that would crown the promotion's new heavyweight champion. But while some of the names featured have legendary records in the division, there are other members of the roster involved who are making their heavyweight debut.
Chael Sonnen, for instance, will be fighting at heavyweight for the first time, against men likely to be 20-lbs heavier or more. But ask the self described 'gangster' — who really made his name at middleweight — and he isn't fazed in the slightest.
"I've gotten a lot of credit [for being involved]," Sonnen said in a video posted to his YouTube channel. "A lot of people go 'wow, you sure aren't scared' and all these different things. And yeah, there's a little bravado there for me, I appreciate when somebody says that, I've got an ego like anybody else. But this isn't a bang my chest situation, this is just from the time I came from."
Sonnen made his debut in 1997, fighting for years before eventually starting his best run in the UFC in 2009. According to him, it's his being from a different era that means he's prepared to accept bouts against men regardless of weight and size.
"I remember when I used to dream of being the world champion there was no weigh-ins," Sonnen said. "It was always heavyweight. So you were seeing guys like Dan Severn, and then that got passed to Mark Coleman … because I came up that way, I never think about what a guy weighs. Ever. I never look at him and go 'how much does this guy weight?'
"The same thing goes on in my practice room. I got teammates of all sizes, and coach puts us all together. Some days I'm going with a gal, and then some days over here I'm going with a featherweight. Most of the time, I'm spending my time with some bigger guys but you're floating around. I never look at what they weight.
"I just don't really care what a guy weighs. I appreciate the credit. I'm going to win the tournament. I don't think I get any extra credit for winning it because it's at heavyweight. I'll whip all of them, whatever they weigh. And I'll give them a chance to whip me, whatever I weigh. One doesn't have anything to do with the other. But I'll tell you this, it's all going to begin on January 20, and we're going to have to fight."
Sonnen is currently reported to be meeting Quinton 'Rampage' Jackson in the opening round of the tournament in January of 2018. While Jackson is the former UFC light heavyweight champion, he moved up to heavyweight last year.
Other names included in the tournament are Fedor Emelianenko, Frank Mir, Ryan Bader, King Mo Lawal, and Roy Nelson.
Comments
comments