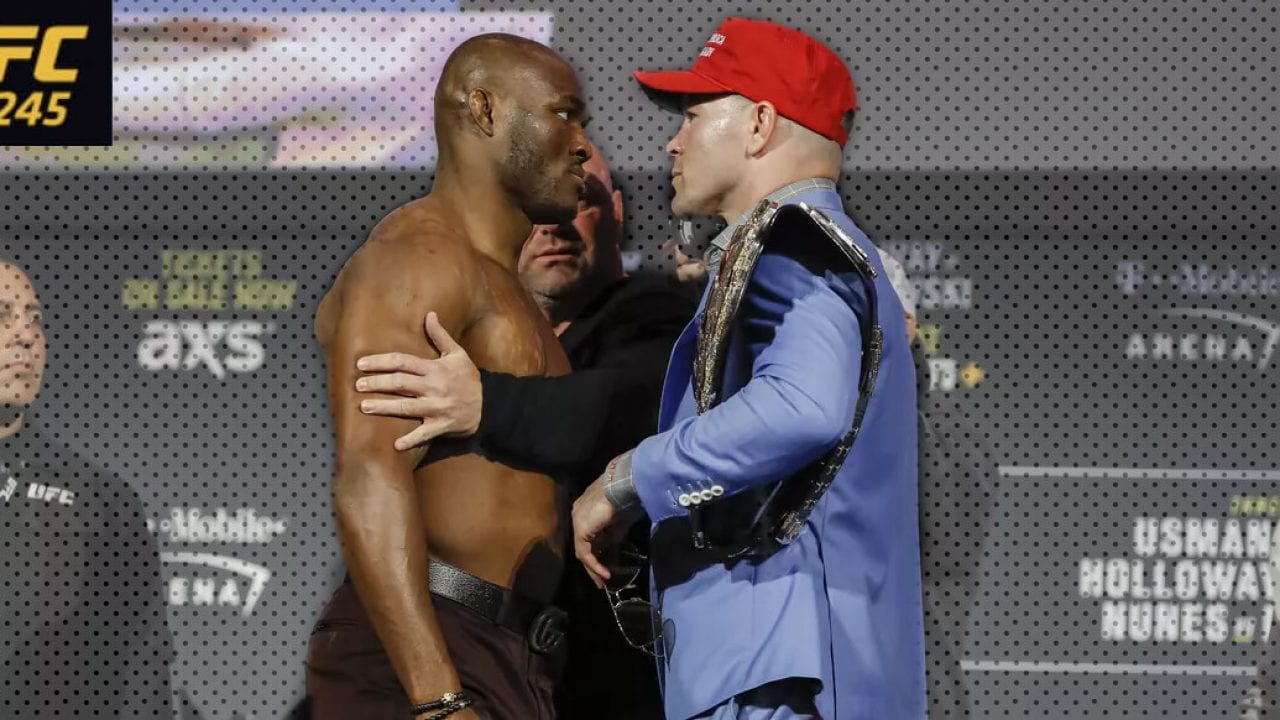 When it comes to Colby Covington, sometimes it is hard to tell what is performance and what is not.
The brash, MAGA-supporting fighter found success when he adopted his Trump-borrowed persona, hurling accusations and demeaning nicknames at practically each of his rivals in the UFC welterweight division — but has continually labelled title rival Kamaru Usman as a drugs cheat dating back to their fight in late 2019 which Usman won by fifth-round TKO.
Usman, who hasn't failed a USADA test it must be noted, has rarely bitten on Covington's accusations but now that the pair are aligned for a keenly-anticipated rematch later this year, Covington has once again reverted to type.
"He's been doing EPO his whole career," Covington said to Submission Radio, as transcribed by MMA Fighting. "It's so obvious. His chemical imbalance, his body. He's got the pimples all over his back, all over his face. You're a 35-year old man, you're not going through puberty like you're in your teens anymore. You should not be having that chemical imbalance and that breakout. That's from his testosterone being out of whack, and his estrogen and his testosterone levels being out of whack.
"So, he is the CEO of EPO. I've heard firsthand from some people that he trained with, some people that I might've went to wrestle in college with that said the same thing. They could verify that he has done EPO and he's injected in his ass. So, he's the CEO of EPO, he's 'Marty Juiceman.'"
Banned substance EPO has been in the MMA headlines recently after T.J. Dillashaw returned last weekend from a two-year ban for ingesting the drug ahead of a fight with Henry Cejudo, but Covington maintains that Dillashaw isn't the only fighter on the UFC roster who has made use of it.
"There's ways to get around the tests," Covington said. "They're not blood testing, they're doing a piss test here and there. They're not gonna blood test him, they're gonna let him get away with it. But you've gotta live with that the rest of your life. You gotta live with that on your conscience, that you had to cheat your whole way through your career. I know I'm all-natural American. I work the hard way. You know, blue collar. Earned it. Blood sweat and tears. This is earned to the very core, to the very root naturally. I didn't cheat, I didn't cut corners. I took the long way to get here.
"So, he has to live with that. He's gonna have problems later in life. His organs, all that stuff's gonna shut down. He's taking years off his life. But that's the choice that he has to live with. And if that's what he wants to do, that's what he's gonna do. But you cannot stop destiny. And this is destiny. Nov. 6 is destiny. Colby 'Chaos' Covington will be the UFC welterweight champion of the world, and there's not a steroid in the world that can stop it."
Comments
comments