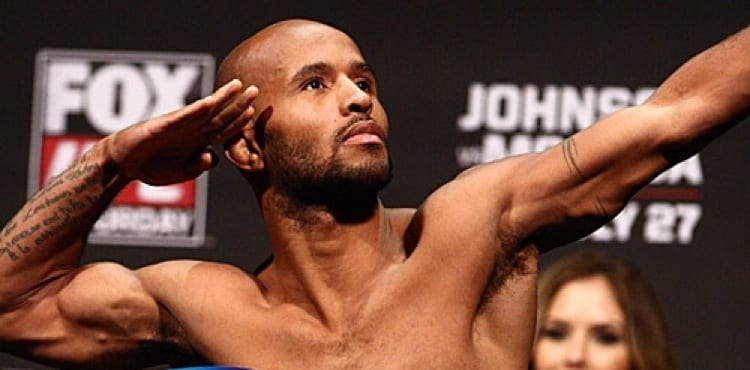 Demetrious Johnson's win over Wilson Reis put two things about the flyweight king into sharp perspective.
The first is that the man is exceptionally, exceptionally talented.
After the victory last night put him equal with Anderson Silva's record of ten UFC title defences, Johnson declared himself the best champion to ever step foot in the cage, and while that position will always be under discussion, heis now undeniably in the conversation.
But the other point that's never been clearer about Demetrious didn't emerge until this morning.
Overnight TV ratings have revealed that Saturday's show was the least watched of any UFC event hosted on the FOX platform, with just 1.7 million viewers tuning in (comparatively, the last UFC on FOX headlined by Valentina Shevchenko vs. Juliana Pena earned 2.02 million).
It's increasingly apparent that Mighty Mouse's talent does not appeal to the majority.
Perhaps it's a case of competition. Mixed Martial Arts is at its best when there are noted stakes on the line. Indeed, part of Conor McGregor's appeal is that he consistently finds a way to heighten the risk with every fight — and he's the most popular athlete in the sport.
With Johnson, you simply don't get the same feeling. He's like DC comics Superman — he's too good, too unbeatable and too easy to see winning. Watching Johnson fight doesn't raise the question of 'will he win?' but instead 'how will he win?'
And while that has its intrigues, there appears to be a cap on how much people can invest in that narrative. But then, that's not a rule necessarily followed across the sport. Jon Jones, a man who seemed destined to write history, often received plaudits and attention in spite of his dominance.
While it can be argued Jones defeated names much more well known the casual audience (you'll find far more fight fans familiar with 'Rampage' Jackson, Rashad Evans and Lyoto Machida than Kyoji Horiguchi, Chris Cariaso and Wilson Reis), was it not the same rhetorical question of 'how will he win' that had fans tuning in?
Maybe Jones would have started receiving the same reactions as DJ if he had avoided all the troubles outside the ring, and didn't find a rival in Daniel Cormier, a man who went through the light heavyweight division in the same manner as Jones, only to fall short to the champion. A heated rival, either through skill or personal ill-wishes, grabs attention after all. Or maybe this is where the critiques of Johnson's size and personality can be given credibility.
But, as Johnson has made clear, that won't be changing. Calls for him to move up in weight are met with calls from him wanting more money to do so. Suggestions he should be more outspoken are shut down with pointed notes that he isn't looking "to be prom king of the UFC."
And besides, why should he even care?
Well, money. Post-fight on Saturday, Johnson called for a million dollar payday from the UFC, citing his success in the cage and his impeccable professionalism.
"I don't bash my company," he said at the post-fight press conference. "I don't bash my opponents. I don't miss weight. I've never done any drugs. I'm not at home beating my wife, crashing my car, doing cocaine, all that stuff. I'm not asking for a lot. All I do is go home, drink beer, play video games, and change diapers."
The problem is, this isn't a game that responds to a 1.7 million eyeballs with a million dollar cheque. With his equaling Silva's record, Johnson has forced himself to a level previously unmatched in MMA history, and yet the apparent un-interest has never been higher.
Perhaps, like Silva — whose legacy was built on forays up to 205, defeating names there in non-title fights — Johnson could move up in weight for a fun fight to prove his skills translate across weight. While 125 finds itself a new challenger, perhaps Johnson could face someone along the likes of John Lineker.
Or perhaps Johnson can continue to ignore the ratings, and focus on breaking records and capturing the imagination of the most hardcore of fans.
Whatever he does, the UFC will want to find a solution. FOX won't pay more money for lower ratings, and the loans borrowed to match that $4.2 billion price tag are not fading away quickly.
Comments
comments