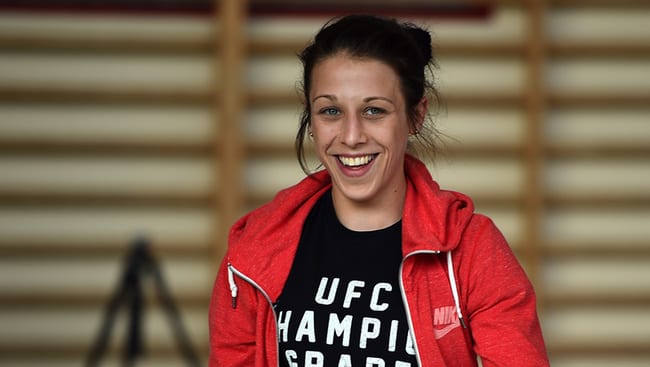 At one in the not-too-distant past, Joanna Jedrzejczyk was held in regard as being the best female fighter on the planet. With that accolade now belonging to Amanda Nunes, and with Valentina Shevchenko also stating her case, Jedrzejczyk is aiming to re-establish her status as one of the game's top fighters after a patchy recent run of form.
Going into her title defence against Rose Namajunas at UFC 217 a little under three years ago, the Pole was 14-0 and heralded as near-invincible, given the manner in which she had outworked her opponents to that point with her array of pinpoint, crisp striking. Namajunas, though, stunned Madison Square Garden by knocking her out inside the first round to claim the belt, also winning the subsequent rematch.
Losses to Shevchenko and Zhang Weili made it four title fights in a row in which she came up short which, as Jedrzejczyk said in a recent interview, led to her contemplating retirement.
"I will be fighting," she told scmp.com. "I can't stop. I won't stop. I was thinking, 'maybe I'll do one, two, three more fights,' but why not fight every year? Even if I do it once a year or twice a year, why not do it? I love it. It doesn't matter if I keep winning or losing or keep fighting for the title or not, I just love it."
View this post on Instagram
Her exact path remains unclear, however. Jedrzejczyk says that the ongoing situation with Covid-19 means that she will not fight before the end of this year, but when she does return she says she wants big fights against big names.
"Being the champ again. I just want to give big fights to the fans, to the people, because I know my value is very big," she said. "I just want people to see that we can never stop, that we can't give up, that we should fight for our goals and dreams.
"I lost my last fight, but I feel I will rock the next fight even better. The last camp was special, but I know that I can do even better this time, and I will. I can't wait. I'm excited. [There will be] lots of pain, lots of tears, lots of blood, sacrificing myself, but it's worth it to step into the UFC Octagon and fight for the belt.
"[I want to be] a Hall of Famer," she said. "One of the best. There's me, Ronda Rousey, Amanda Nunes and Cris Cyborg. It's the four of us who accomplished so much in this sport. I always wanted to be remembered, and I will be remembered."
Comments
comments