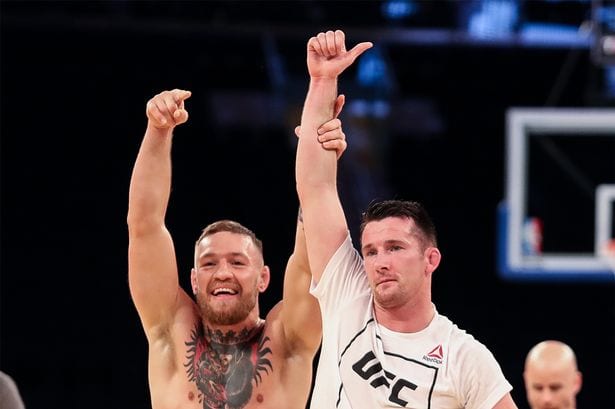 The subject of the UFC 229 main event between Conor McGregor and Khabib Nurmagomedov is the hottest topic in mixed martial arts.
McGregor, the jewel in the UFC's four-point-two billion dollar crown, will attempt to become the first man to flummox the undefeated Russian fighter when they square off in the T-Mobile Arena in Las Vegas on October 6, and according to former world title challenger and pundit Kenny Florian, no man has tools as sharp as McGregor when it comes to this particular predicament.
"You get Conor McGregor, who just might be the only guy at 155-pounds who can expose that striking weakness of Khabib Nurmagomedov and actually make him pay for it," the former fighter said on the Anik & Florian podcast.
"So he has the ability to land that shot that you don't see, he has the ability to counter you, he has the ability to move off that centre line and land that fight-ending shot unlike anybody in that division."
That shot, usually a left, has brought an end to fights with the likes of Eddie Alvarez, José Aldo, Chad Mendes, Diego Brandao, Ivan Buchinger and even the unfortunate Paddy Doherty, who was one-punched by McGregor just four seconds into the first round back in 2011 in the Irishman's pre-UFC days.
And, as Florian contends, McGregor has proven his ability to repeat this feat time and time again.
"He's such a technical striker," Florian continued. "You look at what he's done. Are people forgetting that he just destroyed Jose Aldo in a mere 13 seconds? The fact that he beat Max Holloway? The fact that he came back to beat Nate Diaz? Not at 155-pounds, which was an option for him. But he said, 'No, I'm going to rematch you at 170-pounds and I'm going to beat you.'
"And he did that against a massive and dangerous style match-up in Nate Diaz. So this is a guy who is very dangerous.
"He has a lot to still prove to himself and I still think he loves this game. So, I think he's the only guy who could knock out Khabib Nurmagomedov."
Comments
comments