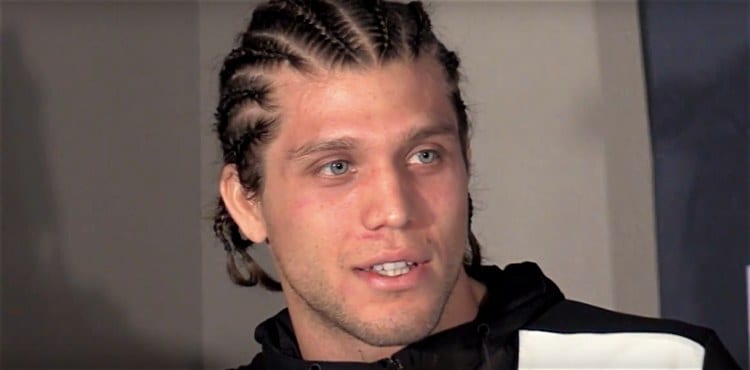 Brian Ortega and UFC president Dana White have come together and resolved their differences over Ortega's refusal to fight a replacement for UFC featherweight champion Max Holloway on a few days notice at UFC 226.
Ortega had recently revealed his not accepting a contest with Jeremy Stephens at the recent pay-per-view left White unhappy, and Ortega went home from Las Vegas receiving no compensation for his training or involvement in various media obligations. Now it seems the pair have squashed their differences, and Ortega did in fact get some money despite not competing.
"I'm feeling a lot better now," Ortega said yesterday in an interview with AXS TV (H/T MMAJunkie). "The heartbreak was a little bit real at first, but then once I started to realize the bigger picture and everything – and I had to put my ego aside and put my thinking cap on in terms of business-wise, we made the right decision. I talked to Dana just the other day, and everything is good between me and him. He compensated me — we reached an agreement."
For Ortega, he stands by his decision to not accept a last minute replacement. As someone who has seen firsthand the risk that comes with such a move — Ortega defeated Frankie Edgar in a similar situation and by doing so cost Edgar a shot at the belt — the Californian had no interest in rolling the dice on his own title aspirations. For that reason, a bout with Jeremy Stephens didn't get much fire risen in the 27-year old.
"The goal was for me to go for a title, not to fight a guy who lost to the last three guys that I finished, so it just didn't make sense to fight for anything else than a belt," Ortega said. "I put myself in that position by finishing everyone who's been in front of me, and I'm just going to wait for that and pray for Max because now they're saying that it's a possible light stroke, and that's not a joke. I've got prayers on for Max, and he's Blessed,' so he'll come back."
Still, with Holloway out indefinitely following his concussion-like symptoms, Ortega isn't ruling out a showing in the cage anytime soon. There just has to be some legitimate gold on the line.
"Any fight for the title, that's it," Ortega said of what he wants next. "That's all I'm looking at. I'm just looking at that gold, that belt. For me, it doesn't matter the opponent. It doesn't matter if you call me on one day, two days, that's never been the issue. But the belt is what I want, and I'm going to wait for it and pray that Max gets better so we can give the fight fans the fight that you guys want to see because I know we missed out for you guys on Saturday at UFC 226, but we'll make up for it."
Comments
comments