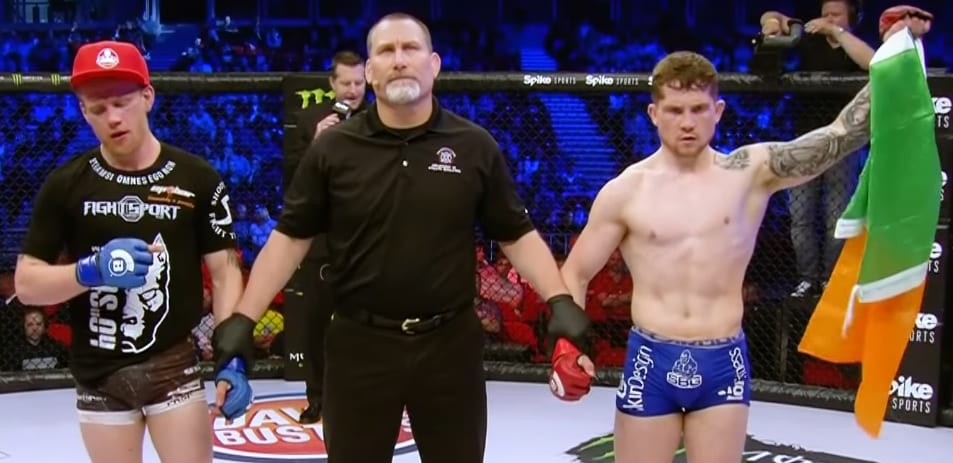 Brian Moore's Bellator bout this week — his fifth for the promotion, incidentally — will mark the SBG man as not just one of his gym's most experienced, high level fighters but will also serve notice of his own title aspirations in the promotion's 145-pound frame.
'The Pikeman' faces the experienced former UFC vet Noah Lahat at the Bellator 210 card in Oklahoma on Friday and after going 2-2 in the promotion thus far, a win against Lahat (who also has genuine title aspirations) would serve as the biggest statement of the Wexford man's professional career.
Moore last fought for the organisation in April, needing little time to secure a guillotine choke victory against Giorgio Belsanti but it was his previous fight, a defeat to one of the Bellator's top prospects in A.J. McKee, which made sections of the MMA community sit up and take notice of the hard-working Irishman.
Filling in in the main event on short notice after James Gallagher was forced to withdraw from the main event due to injury, Moore was elevated to the featured bout and placed opposite McKee as matchmakers attempted to secure their "Irish person versus someone" strategy for the main bout.
And for two round, it appeared as if they had made too hasty a decision. Moore was the better fighter throughout ten minutes. He was quicker to the punch. His aggressive grappling was flummoxing the undefeated McKee. The raucous crowd in Ireland's largest indoor arena were willing every punch to his their target.
McKee, to his credit, came back in the third and won by submission but Moore, even on short notice, proved that he could hang with the very best in the organisation.
And, as he said in an interview with Pundit Arena, he takes nothing away from his opponent that night.
"I slipped in the last round and he took my back – he did great – I'm not taking anything away from him. I didn't think he'd be able to get the choke but he got it," Moore says of the McKee bout.
"I think with a better camp I'd put AJ away, I think I'd finish him, to be honest. I think our paths will cross someday again."
A full camp is exactly what Moore has under his belt for this weekend's bout with Lahat, just the second such time in his career that he has had the opportunity to completely dedicate himself to a fight.
"The training over the course of the last few months has been ideal. I've been delighted with it," Moore says.
"It's the second time that I've been able to train full-time. My last camp was my first full-time camp and it has shown. It's the most-prepared and the best I've looked.
"It wasn't from a lack of effort that I couldn't put in full-time camps. It was literally a lack of priority. I have a young family and I'm a very, very present father and then I have a busy gym that I have to manage and operate. I've been able to make some adjustments with that.
"I really think this performance in a few days will show that. I think people will take notice of all of the hard work I've been putting in – all the sacrifice and dedication. I'm looking forward to it. This is the most confident, the most well-prepared I've ever been so I can't wait.
"I'm not sure if I'm in my prime or not, but the way I've been able to structure my camps – even the aspects of recovery. Recovery was not a facet of my previous camps because I didn't have time for it.
"It's not that I feel like I'm coming into my prime, but I'm the most complete athlete I've ever been because I've been able to put so much more focus on my fight-career."I'm coming in oozing confidence and I'm ready for whatever. If I win this fight you have to mention my name with the Bellator featherweight belt close to it."
Bellator 210 takes place from the Winstar World Casino and Resort in Oklahoma on Friday night.
Comments
comments