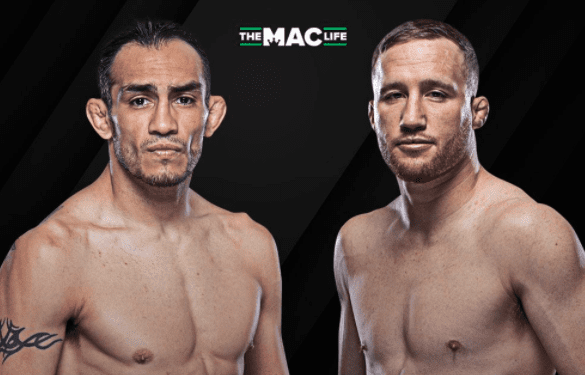 After almost two months of vapid, fight-less life the UFC returns with a bang on Saturday night with a bumper UFC 249 which will kick off the first of three fight cards taking place in Jacksonville, Florida in the space of a week. 
And what a card it is. An interim lightweight title tilt between two of the 155-pound division's most consistently entertaining fighters, Tony Ferguson and Justin Gaethje, tops the card while Dominick Cruz will look to claim the organisation's bantamweight crown for a record third time with a win against Henry Cejudo.
The fight card is sprinkled with interesting fights but, according to our official betting partner Parimatch, what can you expect to see happen? Below are a few possibilities as suggested by the odds.
Tony Ferguson vs. Justin Gaethje
As per the official odds, Tony Ferguson is considered the more likely of the two fighters to win the fight inside five rounds. If he does, he is more likely to win by submission than by KO or TKO. In fact, Parimatch have Ferguson as more likely to win the fight in each of the five rounds when compared to his opponent.
However, if the fight is indeed to end by knockout Gaethje is the more favoured fighter to do so. You probably don't need to be told as to which of the two fighters is more likely to win by submission.
Expected result:  According to the odds, the most likely scenario is that Tony Ferguson wins by submission in either the first or second round.
Henry Cejudo vs. Dominick Cruz
Parimatch has this one most likely going to a decision and it is hard to argue against this. Neither man has displayed any real weakness to strikes in the UFC (though both have been finished by that method). If the fight does end prematurely however, Cejudo is vastly favoured to win via knockout. Cruz has a slight edge in the odds when it comes to finishing the fight by submission, but that's a pick 'em line.
Expected result: Per the odds, Cejudo is the heavy favourite against a returning Cruz — but if 'The Dominator' is able to perform in a similar manner to how he did the last time he returned from an extended injury hiatus against Takeya Mizukgai in 2014, Cejudo could be in for a long (or brief) night.
Francis Ngannou vs. Jairzinho Rozenstruik
It will come as absolutely no surprise to anyone that this fight is heavily backed to end by knockout. But who lands that telling blow? Well, Francis Ngannou is four times more likely to finish the fight in the first round compared to Rozenstruik, as well as being about three times more likely to win by knockout at any point in the three rounds.
If you're feeling extraordinarily lucky, a bet on Rozenstruik to win by submission will get you odds of around 33.0, or 32/1. The odds suggest, though, that there is a high degree of confidence in the judges not being required.
Expected result: Francis Ngannou by first round knockout.
****
This weekend's card is headlined by an interim lightweight title fight between Tony Ferguson and Justin Gaethje. You can see the latest odds for all of the UFC 249 fights via the our official betting partner Parimatch. 
Comments
comments