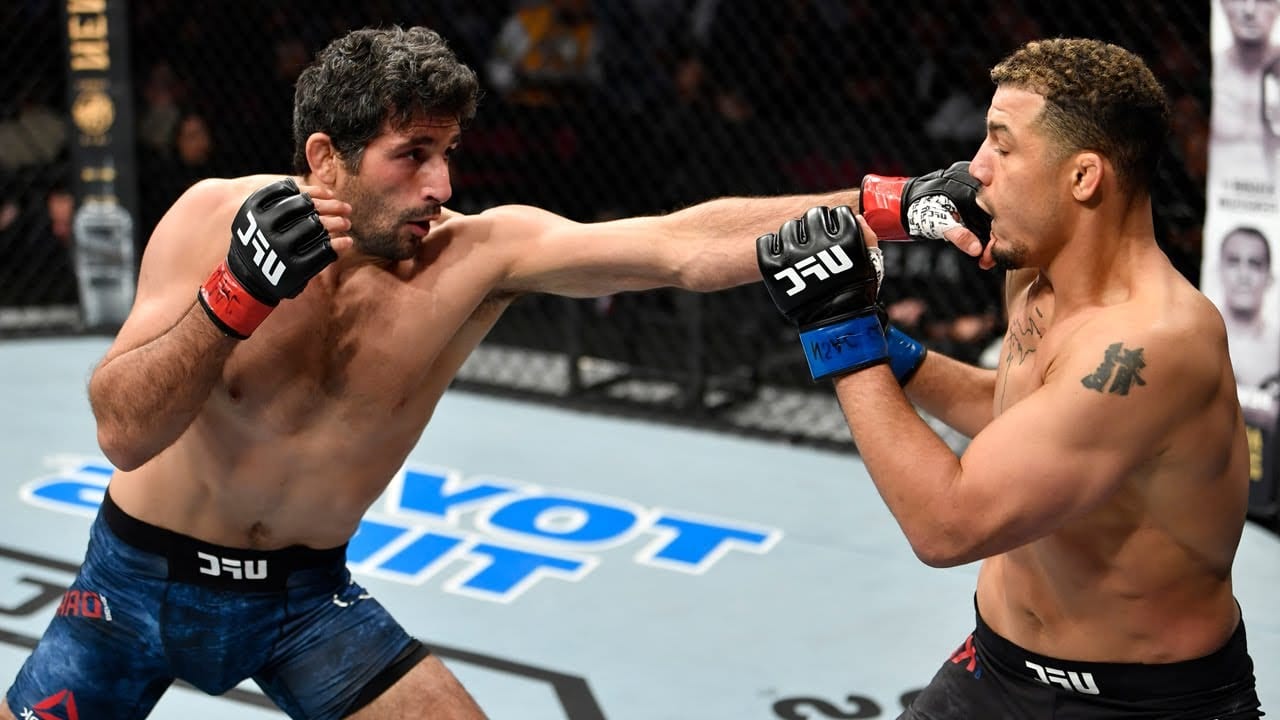 With the exception of Islam Makhachev, Charles Oliveira has proved to be a riddle too difficult to crack for every lightweight opponent he has faced dating back to the summer of 2018 — but Beneil Dariush doesn't see himself as another victim of the Brazilian's outstanding arsenal of submissions. 
The two 155-pound contenders are scheduled to meet in a three-round contest at June 9's UFC 289 from Vancouver in a fight which will have significant repercussions atop the division currently ruled by Makhachev. But with the Russian arguably exposing some chinks in his armour in his previous matchup against featherweight king Alexander Volkanovsi, both Dariush and Oliveira see themselves more than capable of victory — but first, they must prove it by knocking off a top contender.
And Dariush, winner of eight straight, is confident that he will come out on top once the smoke has cleared.
"Fifteen minutes of staying consistent, of staying on the game plan and just being focused and keeping a steady pace, somewhat like the Gamrot fight," Dariush said of the upcoming bout to MMA Junkie. "But, at the same time, I've watched his fights. I've studied his tape. And when I see the wild exchanges, the blood starts pumping.
"I hope I can be consistent with what I say, and I stick to the game plan, but I wouldn't doubt, sometimes I kind of lose it, I wouldn't doubt if in the fight I kind of lost it a little bit and chased the dog fight, and that part because that's my favorite. That's what I actually enjoy the most, getting into those dog fights. Controlling myself is the hard part."
Oliveira possesses the type of ground game which can flummox opponents, as clearly evidenced by the 21 submissions wins on his record,  and while most would be well advised to avoid those types of exchanges with him Dariush — who is an outstanding grappler in his own right — says he is eager to see who he fares against one of the sport's elite submission fighters.
"I actually get more pumped up about the grappling," Dariush said. "I'm not going to lie, to get into some of the scrambles with him and to be able to kind of just go nuts on the ground, that's just as exciting as the standup is. An opportunity to have this fight on the ground, I'm actually really looking forward to that because you see him submit so many people, and you wonder how good his jiu-jitsu is.
"But then at the same time, you see him lose when he shouldn't lose in the grappling, so I'm really looking forward to getting my hands on him and getting a feel of his grappling."
But when all is said and done, Dariush says that there will be no disguising who is truly the better fighter.
"The focus of this fight is to be perfect," Dariush explained. "Personally, the way I see it is domination. I plan on dominating this fight. I want to remind people. because I think my last fight was kind of close. The fight will be an absolute domination, is what it's going to be. I will do what I plan to do, and there's nothing he can do to stop it. That's what I hope for."
Comments
comments