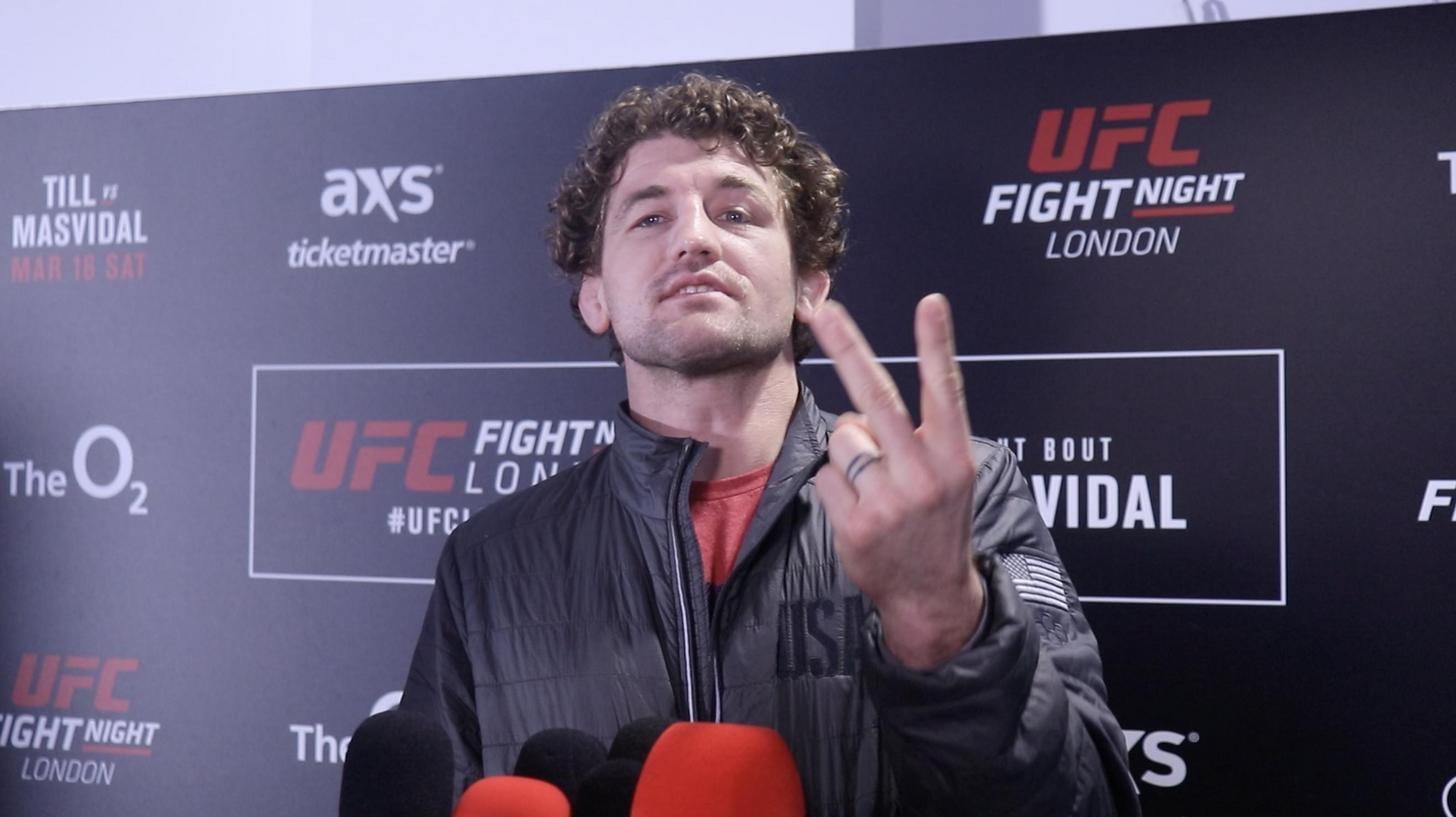 When Ben Askren boarded a plane to London last week, he did so with the idea in mind he'd be booked against Darren Till as soon as today.
Instead, Till lost his main event fight against Jorge Masvidal, leaving Askren left somewhat confused as to where he goes from here. While the American wrestler is adamant he'd be interested in meeting Masvidal in the cage, Askren believes Masvidal is against facing him in the Octagon next time out.
"I would love to fight [Masvidal], but like I said, you heard that post-fight speech, I think he's trying to find reasons not to fight me," Askren said, speaking Saturday on UFC London's post-fight show. "He's talking about fight for the belt — prior to this fight, he had two losses in a row. You don't go from losing two [in a row] to winning one and then all of a sudden you have a belt when there's all these guys in front of you. It just doesn't work that way."
At the moment, the UFC's welterweight division is fixing up to be one of the most fascinating weightclasses in the promotion. Names like champion Kamaru Usman, Ben Askren, Tyron Woodley, Leon Edwards, Colby Covington and now Jorge Masvidal all have some form of claim to world title contention, and most have some sort of relationship (good or otherwise) with each other.
For Askren, it's just about getting as high up the rankings as he can.
"No one likes Colby," Askren said. "I don't like Colby. I would love to skip over him and fight Usman, but it doesn't seem like Usman wants that either. He's not keeping that same energy, as the kids say. I would love to have him call me out. He didn't. So, again, I thought Till was going to win tonight. I think we'll go reevaluate. I'd love to fight Masvidal. I'd love to fight Leon Edwards.
"I would like someone [ranked] higher [than Edwards], but if that's who they gave me instead, I would definitely say yes," continued Askren. "What I was surprised about was his ability to do well in the grappling department. I thought that was the place that Gunnar Nelson had a huge advantage in, and Leon Edwards not only got takedowns, he controlled the position on top, he stuffed all of Gunnar Nelson's takedowns."
Ideally, Askren wants to sit down with the UFC this week to get an answer and a date for who and where's next.
"I genuinely don't know," Askren said. "They haven't brought the fight to me yet. They haven't asked me to do it. I said I'd reevaluate after tonight, so I guess tomorrow maybe we'll be talking to them and we'll figure out what's going to happen."
Comments
comments