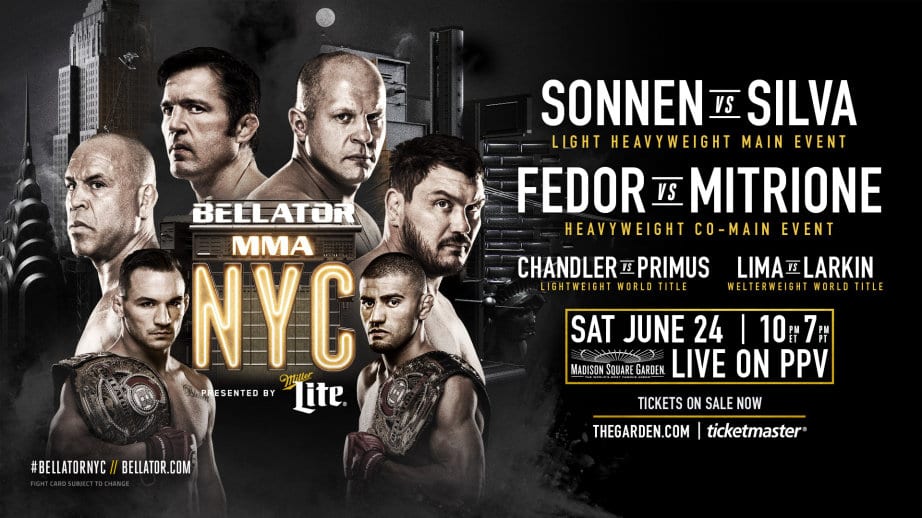 Bellator MMA's much-vaunted maiden event inside Madison Square Garden had no shortage of entertainment throughout the night but has ultimately left the promotion with more questions than answers.
Ever since Scott Coker took over the reins from Bjorn Rebney three years ago, Bellator has been slowly building to Saturday night's double-header card inside an arena soaked in combat sports history. While the pay-per-view buy rates and gate will ultimately prove to be bottom line definition of success for Coker and co., the outcomes of several fights sprinkled throughout the two cards will prove to be a complication for the organisation's matchmaking team moving forward.
Michael Chandler, the two-time Bellator lightweight champion and one of the promotion's true homegrown stars, was given a stage suitable to showcase his undoubted talents but the bizarre ankle injury he picked up early in the first round soon rendered the bout as a formality, as game as Chandler undoubtedly was. His opponent, and now the champion, Brent Primus was dropped by a one-legged Chandler moments before the fight was stopped by cage-side medics after a bizarre moment where the referee instituted what looked like an injury timeout.
The rematch between Primus and Chandler is a no-brainer but the injury denied Chandler and Bellator the opportunity to effectively showcase one of their homegrown stars in front of what will go down as one of their largest audiences to date.
Aaron Pico, the highly-touted 20-year-old prospect, had been ordained as a champion in waiting by the Bellator desk prior to his fight with Zach Freeman (who may as well have been referred to as 'A.N. Other' in the lead-in) with Brendan Schaub even suggesting that Pico could beat any top ten 155-pound fighter in the world. All is fair, as they say, in love and fight promotion, but even 'Big Brown' was forced to tone down his rhetoric after Pico was summarily dropped with an uppercut and submitted via guillotine choke just 24 seconds into the bout.
There is little doubt that Pico is a big prospect but the optics certainly weren't good. His defeat to the now 9-2 former RFA title challenger Freeman leaves Bellator forced into the position of having to give Pico a more suitable opponent for his entry point into professional MMA, which arguably should have already been the case last night.
At the top of the Bellator NYC card, two fighters at the other end of their careers failed to recall even a facsimile of their career-defining performances. Fedor Emelianenko lasted just 74 seconds in the cage with Matt Mitrione, reacting slower to a (frankly incredible) double-knockdown before being pounded into unconsciousness by the former New York Giant.
Fedor Emelianenko vs Matt Mitrione #BellatorNYC WOW!!!! pic.twitter.com/7ojfSU6FjD

— Fancy Combat (@FancyCombat) June 25, 2017
It will likely be the Last Emperor's last ride.
Emelianenko didn't appear to have access to the blinding speed which used to define his strikes, nor the chin to withstand the blows of a fighter who weighs upwards of 20-pounds in excess of him. In his forty years, Emelianenko has 42 career bouts and has now lost his last four bouts in the United States. Mitrione, meanwhile, is two years' his junior and last night was his 17th career contest and he looked the considerably less battle-worn fighter.
Wanderlei Silva, another legend of yesteryear, was also unable to produce the type of performance which seemed to come effortlessly to him a decade plus ago. Propelled by an intense rivalry with Chael Sonnen which was fueled by a season of TUF, a failed fight booking or two in the UFC and constant needling in the press and social media, eventually the meeting between Sonnen and Silva was something of a damp squib, with only occasional moments of true action peppered amidst Sonnen's oppressive top game.
'The Axe Murderer' certainly had his moments but ultimately any offense he generated was soon stifled by Sonnen, who promptly called out the recently unconscious Emelianenko in his post-fight speech in what would be bizarre matchmaking — but that's not to say it won't happen.
Elsewhere throughout the night, Phil Davis and Ryan Bader provided an extended cut of their snoozefest first meeting from Jan. 2015 with Bader once again being awarded the close decision in a bout which is best soon forgotten. Douglas Lima defended his welterweight title in a strangely lackluster affair opposite fellow striker Lorenz Larkin in which caution was the predominant strategy for both.
Stock significantly increased for the likes of James Gallagher and Heather Hardy, as well as the aforementioned Freeman and Primus, but Bellator's NYC debut will serve as a reminder that you can stack the deck any which way you want, but you can never be sure which way the cards are going to land.
Comments
comments