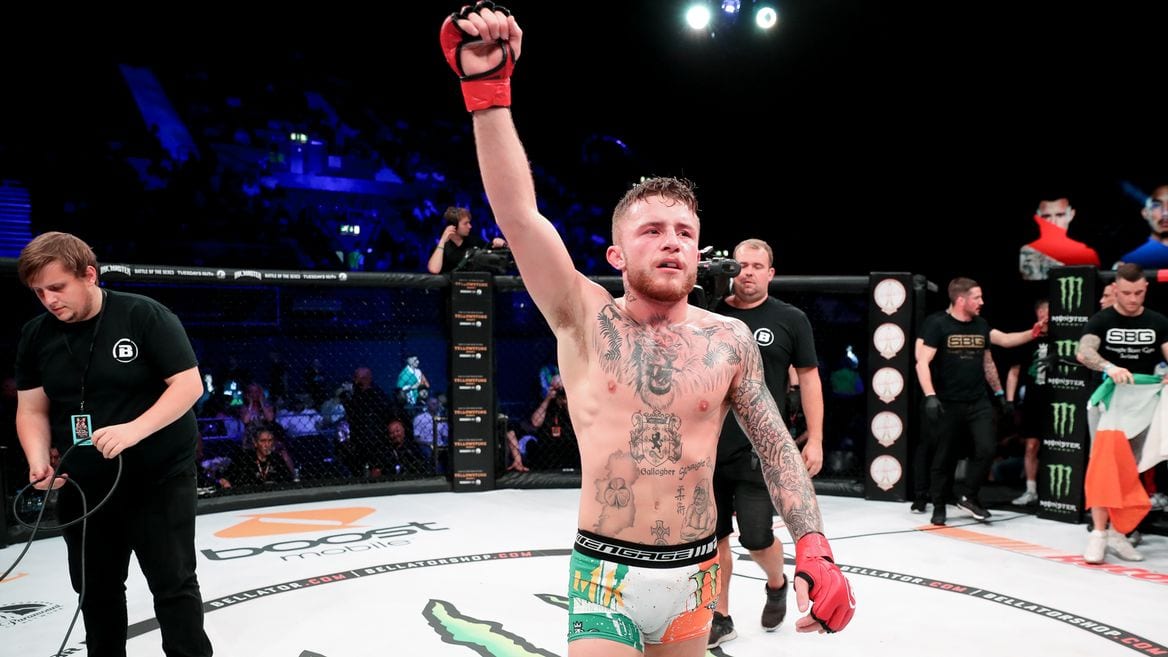 On a warm summer's night on the banks of the River Liffey five years ago, Ireland's association with mixed martial arts changed forever.
In those hazy days before top level MMA was a frequent occurrence on the island and before its ascension to mainstream status on the little rock near the westernmost part of Europe, Conor McGregor was about to change everything. Then 2-0 in the UFC and coming off the back of a serious knee injury he suffered in a winning performance against Max Holloway, McGregor led the charge into the largest indoor arena in Ireland, and the night couldn't have gone much better.
Each Irish fighters, and even fighters with associations to the country, proved victorious on the UFC Fight Night 46 card headlined by McGregor taking on Brazilian slugger Diego Brandao. Such was the success that it was predicted that it would herald a new wave of Irish mixed martial arts talent, all of whom were emboldened by the doors being blasted open by an array of fighting Irishmen.
😱 This promo will give you chills!
⠀⠀⠀⠀⠀⠀⠀⠀⠀#BellatorDublin on Sept. 27th at @3ArenaDublin is going to be something truly special to witness. pic.twitter.com/3d7hHgkqjY

— Bellator Europe (@Bellator_Europe) August 30, 2019
Now, some years later, that prophecy is evident in Bellator's return to Ireland for their second event of the year which features a swath of Ireland's best martial arts talent but as SBG Ireland head coach John Kavanagh told The Mac Life, none of this would have been possible had that day not come back in 2013.
"I sometimes joke that all of these fighters should be giving Conor 10%," Kavanagh said to John Balfe. "We wouldn't be here if it wasn't for him. He made the sport a national sport. It's 100% down to Conor, there's no doubt about it. Now, the guys have picked up the baton and ran with it. You can give them opportunity but you can't make them work hard. Gallagher's got his thing going on, Queally's got his approach, Kiefer's got his approach.
"The guys are grateful for the door being opened but it would have meant nothing if they guys didn't train and got beat by everybody. They had to fulfil their side of the agreement. I like to think it's a team effort."
This time around the card will be topped by the latest episode of The Jimmy Show. James Gallagher was a 17-year-old attendee during the aforementioned event all those years ago and one of the truest examples of the development of MMA in the intervening period. He tops the card on Friday against short-notice replacement Roman Salazar after original foe Cal Ellenor was forced to withdraw last week. The opponent has changed but the plan hasn't, says Gallagher.
"I found out I think nine days before the contest," Gallagher said of the opponent switch. "If my opponent changes, that does not mean that I'm not ready anymore. I'm still as ready as I can be. I'm the best that I have ever been at this moment. I have put everything in to something, I have given it my all. I didn't cut no corners. I am ready.
"I have never been better. It doesn't make any difference. He is just another body and he's a puzzle that I have to figure out. I'm going to go in, do that and learn a lesson from it and continue on with my career."
Another fight looking to make a statement is Kiefer Crosbie. 'BDK' has a fast growing reputation in the sport for a style of fighting which delights audiences and this all-action, never-take-a-step-back approach has seen his reputation swell after recent performances. A DQ loss in his last fight against Mike Jackson (in a fight he was dominating) is the sole blemish on his record — something he intends to put right in his hometown.
"You can call it a loss or a DQ, or you can call it a win in a 'real' fight," Crosbie says. "Look at the fight, initially I put my hands up and I was sympathetic towards him. I watched it about 500 times and he took a f***ing dive. I tapped him with a knee, he jumped to the ground and his corner told him to stay down. It was a bit of a bitch move. He could have continued."
Fight week 🇮🇪 pic.twitter.com/IQJD119p92

— BDK (@KieferCrosbie) September 23, 2019
That fight, however, is firmly in the rearview mirror now. After an opponent change or two of his own, Crosbie faces the 3-1 Hugo Pereira as part of the card and he says that it will be a fight which will serve him doubly, as he gets to erase the confusion of his last fight and also work his way down to the lightweight division from his previous home at welterweight.
"I'll see how it feels, so how it goes with the weight cut and the rehydration and then I'll hit 155. That's the future for me, I've done my stint at 170. I'm going to work my way down the intelligent way. Bellator are great, they're helping me gradually go down rather than making a 15-pound jump. That's a risky one on the health.
"I 100% will be a world champion, that'll happen when it happens. I already feel like a world champion the way I carry myself, the way I train, the way I fight. I'm a killer in there."
What's more, Crosbie is inspired by the support of his local community. A born and bred Dubliner, Crosbie walked these streets from a young age and doesn't take lightly the support of his community and it is this spirit, he says, which helps power him in the cage.
"I'm very, very proud of where I'm from," he says. "When I was a kid I used to dream of fighting in the Point Depot [now the 3 Arena]. The first fight I had there a few years ago for a smaller organisation was a big step for me. Now I'm an established name in this country, I'm main card, selling out the arena. It's a dream come true, as corny as that sounds. I live for these moments."
Another man fiercely motivated to prove himself in battle once again is Richard Kiely. 'The Face of Bellator', as he is sometimes known, has drawn the biggest name opponent of his career for Friday's card when he takes on fellow striker Michael 'Venom' Page, a fighter versed in a similar background of martial arts as he. When the fight was announced many observers, particularly in the United States, scoffed at Kiely's 3-1 record but he says that once the final bell rings in the 3 Arena there will be no debate as to who the better fighter is.
"When he took the fight it was an emotive decision he made," Kiely told The Mac Life. "He was coming off a very bad knockout and he saw a 3-1 fighter and he likes being the hammer, doesn't like being the nail but I think now that the emotion has lifted and he is looking at things logically, I think he realises that he's in serious trouble. When he gets knocked out by a 3-1 fighter, where does he go from there? When I take out their so-called poster boy, I will take his position and I'll be next in line for a world title shot."
And what of those people who don't hold his name as being as recognisable as Page's, what will their reaction be?
"They just haven't seen me. They're armchair pundits looking at the disparity in records. MVP has had the Bellator marketing machine behind him and people are susceptible to that but once I knock him out, everyone's going to know who I am.
"They were fighters that were hand-fed to him. Where have they gone? I've never heard of them in the first place. I know he fought one guy that was a pumped up featherweight. This is the type of guy he is but again, he has the Bellator marketing machine behind him and people think that this is just another can being handed to him.
"People don't know what he's after signing himself up for. I have proved that I can knock anyone out. This so-called world class striker will turn into a grappler."
View this post on Instagram
Another SBG stalwart, Peter Queally, is fiercely anticipating another go in the Bellator cage. His last fight in the same arena in February was a close split decision loss to Myles Price but that disappointment was tempered, somewhat at least, by one of the most spine-tingling cage walks in recent MMA history — something that the Irishman is looking to do once more.
"I can't wait. It's like an addiction now," Queally said. "I remember there was a moment, I was focused but I was walking around the ring and was thinking, 'Jesus Christ, the noise'. It was just insane. I couldn't hear what Michael C. Williams (Bellator announcer) was saying even though he was on a microphone with speakers. It was a really special moment that will stay with me forever and I'm privileged that I can do it again now one more time."
This time around Queally has drawn tough English striker Ryan Scope, a fight which 'The Showstopper' says will be a fun one for those in attendance.
"I was happy to take it, he's a really good fighter. I thought he beat 'Pitbull' in his last fight and if he had won that he probably would be in title contention straight away because 'Pitbull' is so highly ranked. There's a lot to be gained in beating Ryan Scope.
"I'm probably looking forward to this fight a little more as this will be a fun fight for the fans. This one could be a bloodbath, it will be a really good fight."
And so, five years on from the most famous night in Irish mixed martial arts history, we stand on the doorstep of another night for the history books as Ireland's ever-developing wave of fighters continue to prove that they're not just here to take part.
Bellator Dublin // Friday 27 September
Selected fights include:
James Gallagher vs. Roman Salazar
Michael 'Venom' Page vs. Richard Kiely
Peter Queally vs. Ryan Scope
Benson Henderson vs. Myles Jury
Leah McCourt vs. Kerry Hughes
Kiefer Crosbie vs. Hugo Pereira
Frans Mlambo vs. Dominique Wooding
Will Fleury vs. Norbert Novenyi
Karl Moore vs. Lee Chadwick
Dylan Logan vs. Adam Gustab
Richie Smullen vs. Sean Tobin
Philip Mulpeter vs. Keith McCabe
Blaine O'Driscoll vs. Jake Hadley
Ryan Roddy vs. Patrik Pietila
Comments
comments