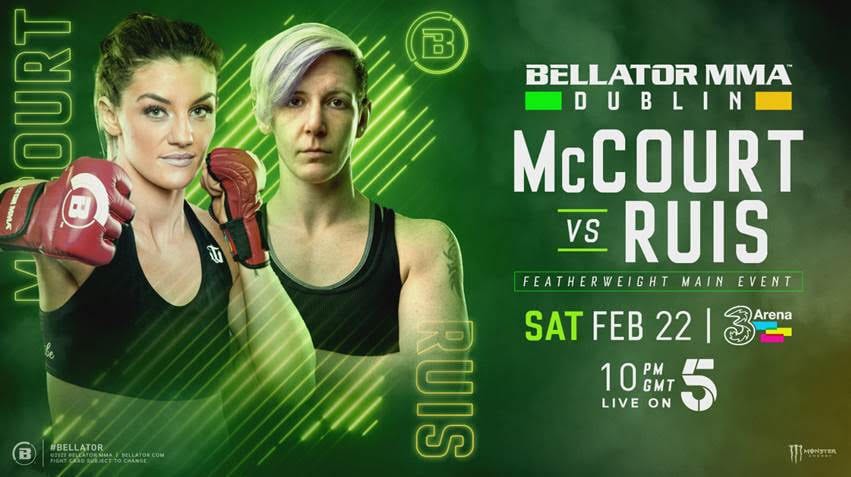 Dublin, Ireland — Bellator MMA has returned to Dublin for another double-header card in the capital.
An injury in the lead-in to the card forced the withdrawal of headliner James Gallagher, as well as another featured attraction in Peter Queally, has left the card with a silver lining of placing the focus on the focus on a host of other local fighters.
Leah McCourt has been drafted into Bellator Dublin main event against Germany's Judith Ruis while the Bellator 240 aspect of the card will be headlined by a battle of former lightweight champion Brent Primus against Scotland's Chris Bungard while there are also high profile fights ahead for the likes of Kiefer Crosbie, Charlie Ward and Frans Mlambo.
Keep up with the results below:
Bellator Dublin // Bellator 240 — February 22, 2020
Featherweight Main Event:  Leah McCourt (3-1) vs. Judith Ruis (6-4) — McCourt wins by unanimous decision
Middleweight bout:  Charlie Ward (7-4) vs. Kyle Kurtz (10-7) — Ward wins by TKO, Round 3
Welterweight bout:  Aaron Chalmers (5-1) vs. Austin Clem (3-1) — Clem wins by unanimous decision
Lightweight bout:  Brent Primus (9-1) vs. Chris Bungard (15-5) — Primus wins by neck crank submission, Round 1
Catchweight bout 160lbs:  Kiefer Crosbie (7-1) vs. Iamik Furtado (6-1) — Crosbie wins by split decision
Flyweight bout:  Elina Kallionidou (7-3) vs. Bec Rawlings (7-9) — Rawlings wins by unanimous decision
Bantamweight bout:  Frans Mlambo (8-4) vs. Ricky Bandejas (12-3) — Bandejas wins by TKO, Round 2
Welterweight bout:  Lewis Long (17-5) vs. Oliver Enkamp (8-2) — Enkamp wins by KO, Round 1
Featherweight bout:  Diego Freitas (Pro Debut) vs. Ilias Bulaid (1-0) — Bout delayed
Lightweight bout:  George Hardwick (4-1) vs. Richard Kiely (3-2) — Hardwick wins by mounted guillotine submssion, Round 2.
Lightweight bout:  Paul Redmond (15-8) vs. Georgi Karakhanyan (28-10-1 1NC) — Karakhanyan wins by guillotine choke submission Round 2
Strawweight bout:  Chiara Penco (4-1) vs. Danni Neilan (1-0) — Neilan wins by unanimous decision.
Featherweight bout:  Richie Smullen (5-1-1) vs. Alberth Dias (4-2) — Dias wins by split decision
Middlewieght bout: Will Fleury (6-2) vs. Justin Moore (9-4) — Fleury wins by arm triangle submission, Round 1
Catchweight bout 161lbs:  Chris Duncan (5-0) vs. Mateusz Piskorz (14-5) — Duncan wins by TKO, Round 2
Featherweight bout:  Calum Murrie vs. Dylan Logan. — Murrie wins by rear-naked choke submission, Round 1
Flyweight bout:  Blaine O'Driscoll (7-3) vs. Ezzoubair Bourarsa (7-1) — O'Driscoll wins by TKO (Strikes) Round 1
Featherweight bout:  Ciaran Clarke (1-0) vs. Jamie Faulding (1-0) — Clarke wins by unanimous decision
Featherweight bout:  Constantin Blanita (Pro Debut) vs. Asael Adjoudj (Pro Debut) — Blanita wins by split decision
Comments
comments