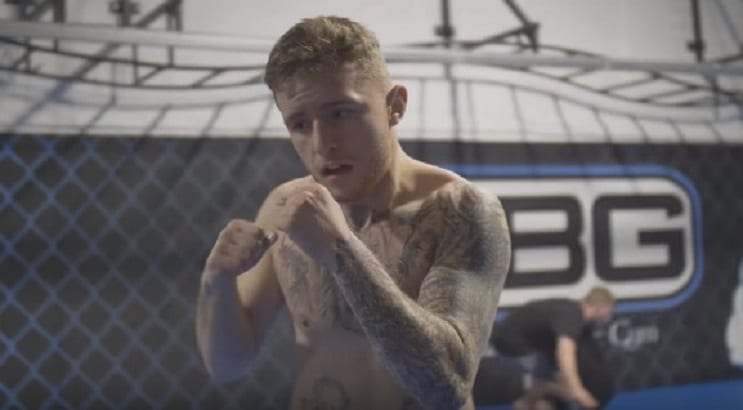 Bellator MMA's latest trip to the Irish capital brings with it arguably the finest mixed martial arts card assembled on this soil since a particularly infamous night a little over five years ago.
The takeover, as was famously predicted inside the 3Arena on that night, has arrived and you need no further evidence than to take one glance at Friday's fight card which features a host of mixed martial arts talent from the length and breadth of the Emerald Isle as they continue their own voyages through one of the most demanding sports on earth.
The card is filled top to bottom with an array of fascinating matchups and, for the first time since a 2016 bout between 'King' Mo Lawal and Satoshi Ishii, Dublin will also host a high level bout which doesn't contain a local fighter when former UFC champion Benson Henderson tangles with another ex-UFC alum in Myles Jury.
So, which bouts should you be keeping a close eye on?
James Gallagher vs. Roman Salazar
The Jimmy Show has become a proven commodity for Bellator. The young Irishman has grown up inside a fighting arena, having tested himself against adults when he was barely 13 years old, but it was when he was invited to train under the stewardship of John Kavanagh at SBG Ireland that he really came into his own.
He was just 3-0 as a professional when Bellator came calling just three years ago and has extended his record to an impressive 9-1 and now stands on the verge of title contention in the organisation's bantamweight frame. To keep talk of a title shot at the forefront of Bellator matchmakers' minds, Gallagher will have to pass the short notice test of former UFC fighter Roman Salazar, who was drafted into the main event last week after original opponent Cal Ellenor was forced to withdraw.
Gallagher, a master of the rear-naked choke, will once again showcase his wicked ground skills as he looks for the eighth submission victory of his career in front of an audience craving for it.
Bellator Dublin: The 'takeover' continues on what promises to be a famous night for Irish MMA | https://t.co/kHRaOXb4tN (via @JohnBalfe) pic.twitter.com/H7m3042WLs

— TheMacLife (@Maclifeofficial) September 25, 2019
Richard Kiely vs. Michael 'Venom' Page
Ask and you shall receive. Richard Kiely and Michael 'Venom' Page come into their fight with perhaps the most animosity of any two fighters facing each other on Friday night. Kiely is an elite striker and comes from a similar background as that of Page, who is one of Bellator's foremost stars.
A win for the Irishman — and he promises it will come — will serve notice that there is a new player in the Bellator 170-pound frame. All the ingredients for an outstanding fight are contained within this matchup, and if Kiely proves himself as 'The Face of Bellator', you can expect a spike in his Google search ranking index come Saturday morning.
Peter Queally vs. Ryan Scope
Peter 'The Showstopper' Queally authored one of the most memorable moments from the last time a Bellator show took over the same venue, as his raucous walkout was soundtracked by The Cranberries quickly went viral. Queally told The Mac Life recently that the feeling of that walkout is "like an addiction".
His next fix comes on Friday when he faces English fighter Ryan Scope in what Queally promises will be a contender for Fight of the Night. We like his odds.
Benson Henderson vs. Myles Jury
A top, top fight. Not so long ago, Benson Henderson was considered to be the world's best lightweight fighter and holds wins against the likes of Nate Diaz, Frankie Edgar (x2) and Jorge Masvidal (to name but a few) and in Myles Jury, he tangles with a fighter who has been in there with Michael Johnson, Chad Mendes, Takanori Gomi and Donald Cerrone.
Frans Mlambo vs. Dominique Wooding
Do. Not. Blink.
Mlamo and Wooding are two of the more dynamic strikers in this part of the world. Mlambo is a former amateur world champion and key member of Conor McGregor's striking sparring partners and in Wooding, it will be like he is staring in the mirror — so similar are the two fighters' skillsets.
All of Wooding's 6 career victories have come by knockout, while Mlambo's 7 wins are a bit more dynamic (4 KOs, 3 subs) and you can expect all of those skills to be on show for however long it lasts on Friday night.
Comments
comments