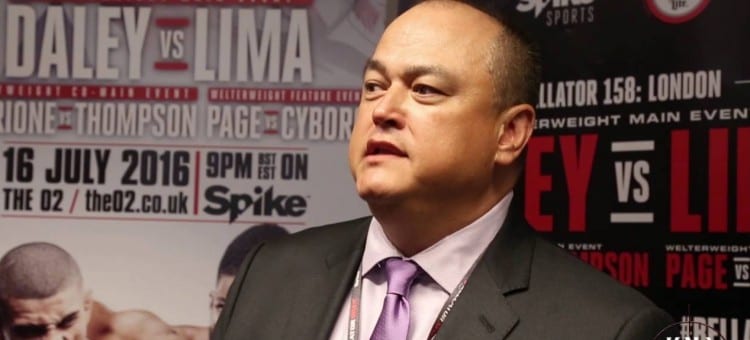 With its bantamweight grand prix heading towards a conclusion early next year, Bellator boss Scott Coker has revealed plans for a 155-pound tournament to begin in 203.
Bellator's tournament structure has long been a factor which has made them distinct from various other mixed martial arts promotions across the globe. The 135-pound tournament is currently in its semi-final stage, with Raufeon Stots set to fight Danny Sabatello on one side of the bracket, and Patchy Mix set to fight Magomed Magomedov in the other.
And while a champion in the $1 million tournament is set to be crowned in the first quarter of 2023, Bellator and Coker have announced that a 155-pound iteration will quickly follow in its footsteps.
"If you look at our roster, I think this is the best roster I've ever had at Bellator, and it's taken us about four or five years to get here," Coker said to Ariel Helwani on The MMA Hour on Wednesday.
"We've got a lot of young kids I'm super high on, and we've got a lot of good veterans, but if you look at our 155-pound weight class, with [Tofiq] Musayev, and Usman Nurmagomedov, and [Patricky] Pitbull, and Benson Henderson — who is coming off a great win over Peter Queally — I think going into next year, one of the things these guys need to consider is that probably will be our 155-pound tournament next year.
"So some of the fighters might want to stick around and stay a little heavier to try and go after that prize money of $1 million bonus that we give out at the end of the tournament."
As for who might take part, the list is a long one. Current world champion Patricky Pitbull seems likely, as does Usman Nurmagomedov who will soon challenge him for the title. Benson Henderson, Peter Queally and Brent Primus also all seem like likely candidates.
"I think it's going to be an amazing tournament," said Coker. "Brent Primus will be in the mix. We haven't decided who the eight fighters are going to be, but if A.J. [McKee] decides he likes fighting at 155, he'll definitely get an invitation to step up. And if he wants to go back to 145, that's fine. But it's going to be an amazing tournament next year."
Another notable candidate would be former Bellator and UFC champion Eddie Alvarez, who it was recently revealed is currently a free agent.
"But announcing the 155-pound tournament, it would be interesting. It's worth a conversation," said Coker. "Eddie's a great guy. I'm not saying it's something we would pursue, but it's at least worth a conversation at this point."
Comments
comments