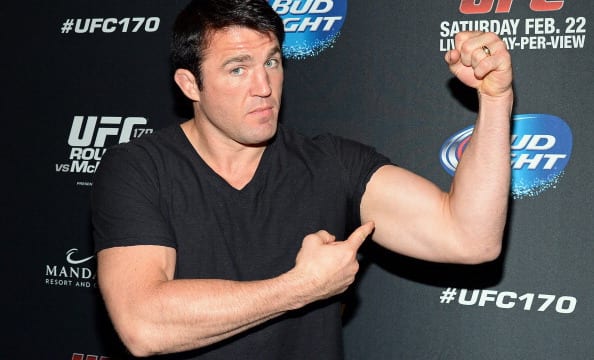 Just 9 pounds will separate Chael Sonnen and the consensus greatest heavyweight of all time, Fedor Emelianenko, when they meet in the main event of Saturday's Bellator 208 card in Uniondale, New York.
The bout will serve as the semi-final for the Bellator heavyweight Grand Prix, with the winner facing whoever has their hand raised in the second semi-final between Ryan Bader and Matt Mitrione on Friday.
Sonnen, who has competed for the vast majority of his career at middleweight and light heavyweight, tipped the scales at 227-pounds, marginally lighter than his opponent who weighed in at 236-pounds.
All fighters on the main card made weight without problem, but three undercard fighters failed on the scales resulting in the scratching of their bouts. This includes Jamal Pottinger who weighed 181.2 for a 175-pound catchweight bout with the debuting Robson Gracie Jr.
MAIN CARD 
Fedor Emelianenko (236) vs. Chael Sonnen (227) – heavyweight grand prix semifinal
Saad Awad (155.8) vs. Benson Henderson (155.8)
Timothy Johnson (265.6) vs. Cheick Kongo (239.2)
Alexander Shlemenko (185.2) vs. Anatoly Tokov (185.8)
Henry Corrales (146) vs. Andy Main (145.6)
PRELIMS
Robson Gracie Jr. (174) vs. Jamal Pottinger (181.2)
Jennifer Chieng (115.2) vs. Jessica Ruiz (115.8)
David Meshkhoradze (170.6) vs. Shaquan Moore (170.8)
Suhrob Aidarbekov (125.6) vs. Tommy Espinosa (125.8)
Nick Fiore (154.2) vs. Jerome Mickle (155.2)
Frank Buenafuente (146.2)* vs. James Gonzalez (147.8)
Eric Olsen (185.8) vs. Jeremy Puglia (185.2)
Dennis Buzukja (155.4) vs. Ryan Castro (155.2)
Mike DiOrio (169.2) vs. Andrews Rodriguez (169.4)
Zarrukh Adashev (125.8) vs. Christian Medina (124)
Comments
comments