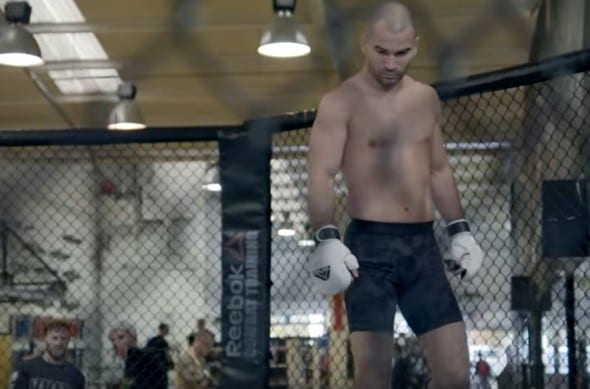 Next Saturday, Artem Lobov returns to the Octagon to face Team Alpha Male's Andre Fili, a match-up which has been brewing for over two years.
In the summer of 2015 when Lobov was a contestant on The Ultimate Fighter, he asked opposing coach Urijah Faber as to Fili's availability for an upcoming fight — a sown seed which has apparently led directly to next weekend's contest in Gdansk, Poland. The UFC offered Lobov a bout with Fili in the summer, but Lobov's duties as a sparring partner for Conor McGregor as he prepared to face Floyd Mayweather put paid to that.
Now though, with his schedule clear again, The Russian Hammer is ready to get back to work.
"On The Ultimate Fighter we had a bit of a back and forth," Lobov said to Andrew McGahon of TheMacLife.com on Friday evening in SBG Concorde. "Afterwards, I still wanted to fight him but he was like, 'If he doesn't win The Ultimate Fighter I don't want to fight him. I was like, 'Whatever'.
"I don't chase them, I replace them. I left it but I got an opportunity to step in on short notice in July but obviously I was in the middle of the Mayweather camp with Conor, so it was an obvious choice. I wasn't going to sacrifice that just to fight Fili. Let's be honest, it's not that big of a fight — it's a fight I could have gotten any weekend.
"I've been dying to get my hands on him though, it will be good to see what that little chin feels like."
Lobov's most recent win in the UFC, against Teruto Ishihara late last year in Belfast, was the latest chapter of a mini-rivalry which had escalated between SBG Ireland and Team Alpha Male. Ishihara, a representative of the Sacramento-based training centre, was shut down over three rounds en route to a unanimous decision victory for Lobov.
Prior to that, Lobov's teammate Conor McGregor coached opposite Alpha Male founder Urijah Faber on The Ultimate Fighter and, weeks prior, defeated Chad Mendes for the UFC interim featherweight championship.
"For us, we've always been real," Lobov explains. "So if somebody is real as well and they do good work and they don't just talk, we respect them. Urijah is a veteran of the sport, he's a good guy [and] he's built a great team. We have a lot of respect for what they do at Team Alpha Male. So for sure, there is definitely a lot of respect between us there but don't get me wrong, I'm still very excited to get my hands on Fili."
.
Comments
comments