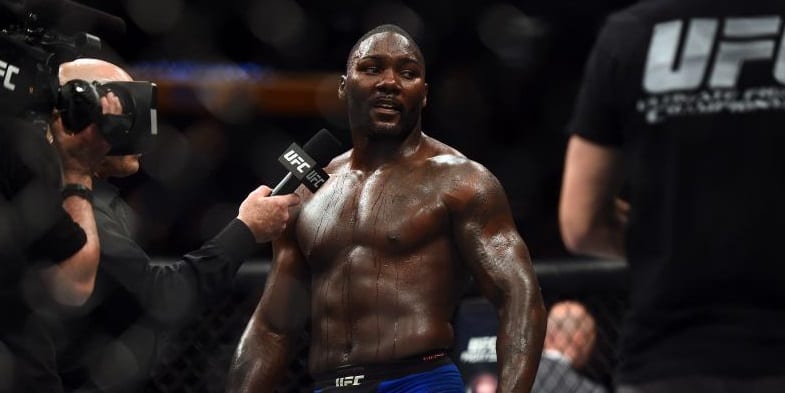 The light heavyweight division has been a poorer place with Anthony 'Rumble' Johnson.
The two-time UFC title challenger, formerly a welterweight, stepped away from mixed martial arts in April 2017 — a move, coupled with Jon Jones' outside-of-the-cage troubles and the injury issues experienced by Alexander Gustafsson, left the division shorn of some of its most high profile names for a considerable period.
However, 'Rumble' could be set for a return according to his manager but it would occur at heavyweight in what would be the fourth different weight class that the he would have competed in in the UFC (he already holds a HW win against Andrei Arlovski from outside the UFC).
"I talked to "Rumble" last week, right?"Ali Abdelaziz said via BJPenn.com. "He said if Jon Jones fought DC (Daniel Cormier) as a Heavyweight, and if Jon wins, he wants to come back and this is the only fight he thinks he'd come back to fight, Jon Jones.
Anthony Johnson is 285-pounds (right now). He wants to come back as a Heavyweight. But I think it (will) have to be something different. He can't just come back, he misses the sport and says he will come back to fight someone like Jon Jones.
He's just having fun (with the bodybuilding), he's been in the sport for a long time, he's resting his body, he's having fun. He will fight again for sure. For sure, 100 percent."
Johnson and Jones were once scheduled to compete but the fight fell apart owing to legal issues experienced by the then-champ. 'Rumble' retired with a 22-6 record, holding wins against the likes of Glover Teixeira, Ryan Bader, Alexander Gustafsson and Antonio 'Rogerio' Nogueira.
Comments
comments