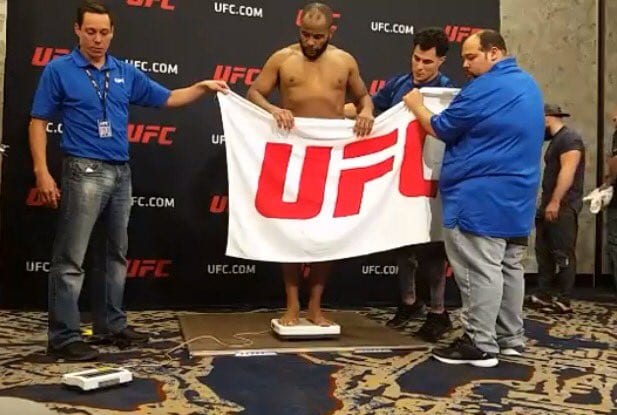 The Daniel Cormier 'towelgate' saga isn't over just yet.
In the wake of their contest at UFC 210, Anthony 'Rumble' Johnson and his management team are set to file an official complaint regarding the controversial nature of Daniel Cormier's weigh-in on Friday ahead of the event.
Eyebrows were raised when Cormier initially missed weight, hitting the scales at 206.2-pounds, only to return just two minutes later at the correct weight. Some have speculated that to make the 205-lbs limit, the champion pushed down on one of the towels provided to help tip the scale in his favour.
While Johnson seemed content to ignore the issue, his manager Ali Abdelaziz has revealed today that they do in fact plan on appealing.
"Anthony's rights were violated," Abdelaziz said, speaking with ESPN.com. "We will go through the proper legal channels to fix this. Everybody saw what happened. How do you lose 1.2 pounds in two minutes?
"We don't want to take anything away from [Cormier], he earned that win," Abdelaziz said. "But [Cormier] needs to give up 20 percent of his purse to Anthony. He had two extra hours to cut the weight and I think he probably would have made it — but as it happened, I don't think he made weight.
"I understand New York is new to regulating mixed martial arts, but they've been doing boxing for a long time. Everybody is trying to sweep this under the rug but it's not going to happen."
For his part, Cormier has repeatedly denied any wrongdoing, and instead said that there must have been an issue with the scales themselves, and that he was merely holding the towel to cover himself.
Comments
comments