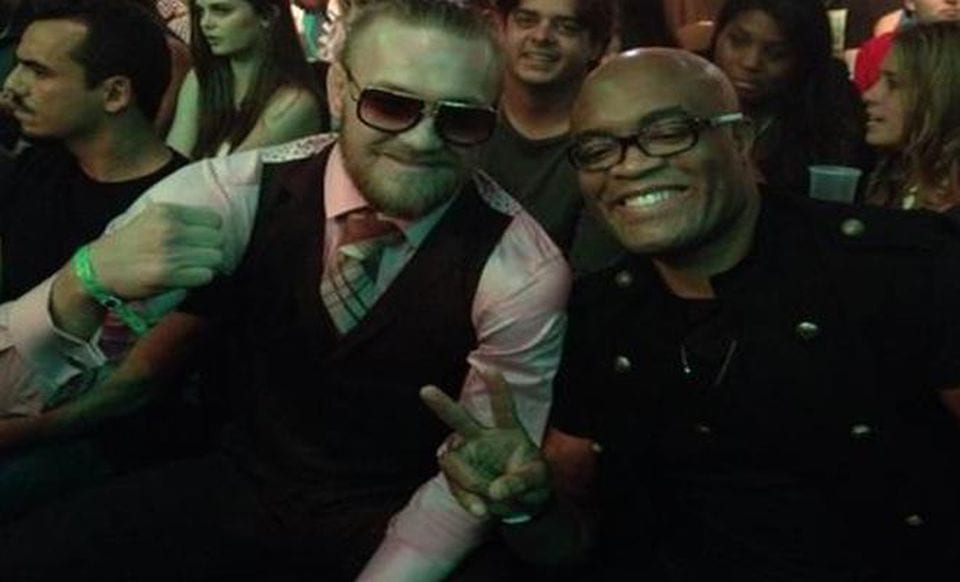 Anderson Silva might be about to call it a day on his exceptional mixed martial arts career, but he admits there's still a name he wishes he could mix it up with — Conor McGregor.
Silva has made no secret he's wanted to meet the Irishman in a super fight over the past few years and has repeatedly gone public in an attempt to see the fight made in what he believes would be a great occasion for fans. While some have scoffed at the perceived size difference between the two, Silva maintains he would drop down in weight to make the contest happen, and that McGregor's striking ability would be more than enough to overcome any potential physical advantages for the Brazilian.
"It's two strikers and I think for me, I go challenge myself, and every single martial arts technique I train in my entire life," Silva said, speaking with ESPN. "Because Conor is very athletic, he's very [technical and] he's a good striker. In my mind, it's just everybody fight with Conor and don't realize that Conor is the best one in this sport and [they] try to do something better than Conor. But this is not happen because Conor is so smart. Conor have the different time for everybody inside the cage. You know? Especially when you fight strikers. Of course, when you see the fight with Conor and Khabib, Khabib is completely different. Khabib is the beast. But when you talking about strikers, this is a good fight for fans."
"Everybody fights with Conor [McGregor] and don't realize Conor is the best one in this sport."@SpiderAnderson explains his excitement about the potential challenge of fighting McGregor, praising his technique and intelligence 🎯🧠 (via @bokamotoESPN) pic.twitter.com/PokGBeLz9B

— ESPN MMA (@espnmma) August 26, 2020
Silva is currently scheduled to meet Uriah Hall on October 31 in what UFC president Dana White says is his last fight. While Silva isn't entirely ready to say this is the definite end to his 20 plus year journey as a fighter, he admits he has to prepare as if it could be.
"Maybe this is my last fight," Silva said. "That's why I'm training hard every day, doing my best. My whole team has come to help me. Everybody is in quarantine to start training. I'm very excited, because I think this is my last performance inside the cage, for my fans. We'll see.
Comments
comments