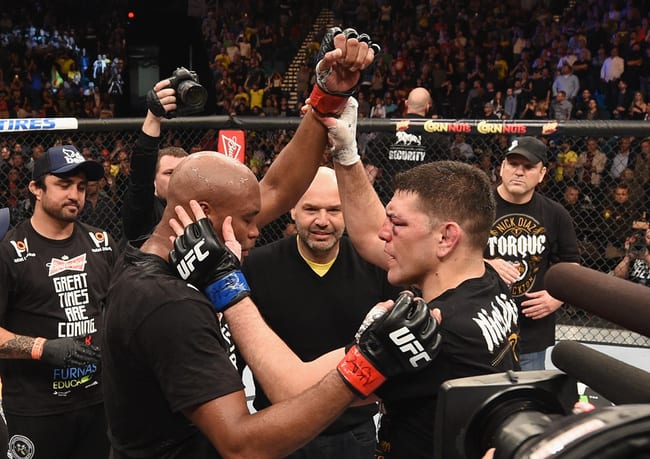 Is it time to print more wolf tickets?
Future Hall of Famer Anderson Silva has revealed he wants to face Nick Diaz in a rematch from their bout at UFC 183, which took place January, 2015.
While Silva originally won the contest via judges decision, it has gone down in the record books as a no contest, after Silva infamously failed a drugs test in the wake of the fight. Silva has continuously denied willingly taking performance enhancers.
Today, Silva took to his Instagram to call out his old foe, stating he felt their original contest was one of the best in mixed martial arts' history.
"I believe this was one of the best fights in the history of this sport," Silva wrote in the post. "With all my respect Nick. Let's show how it's done. I will wait your reply, maximum respect to the Diaz family."
It's an intriguing proposal, but both men appear to be in odd situations at present.
Silva was last heard from in an angry tirade against the UFC, where he even stated he would retire, after the promotion failed to find him a suitable replacement for Kelvin Gastelum, who pulled out of a bout against Silva at UFC 212.
"When I sign my last contract, Dana White and Lorenzo [Fertitta] say 'okay, when Georges St-Pierre is back, you go to fight super fight. You and Georges St-Pierre'," Silva said to MMAFighting in May. "I don't know what happened, nothing happened. Georges St-Pierre is back to fight, and is back to fight for the belt. It's terrible. This don't make sense. I know this is a fucking business, but I'm working hard for a long time, I help the UFC a lot. I save the UFC all the time."
"It's complete bullshit. I'm sorry, but I'm tired for saying to UFC 'okay, UFC, okay'. I'm so tired. What the fuck is going on? … If this fight no happen in Brazil, I'm done, I no fight more. … I'm working for long time in this fucking bullshit job and nothing happened."
But while Silva appears to have calmed down somewhat since then, and even if Diaz is willing and able, there is still another issue on the table.
Diaz has not fought since his bout against Silva after his own drugs test came back (dubiously) as positive for marijuana. After serving a suspension, Diaz was eligible to take another fight — only for him to have recently suffered a USADA related setback. After failing to inform the anti-doping agency of his whereabouts on three occasions, Diaz potentially faces a suspension in the range of six months to two years.
Comments
comments