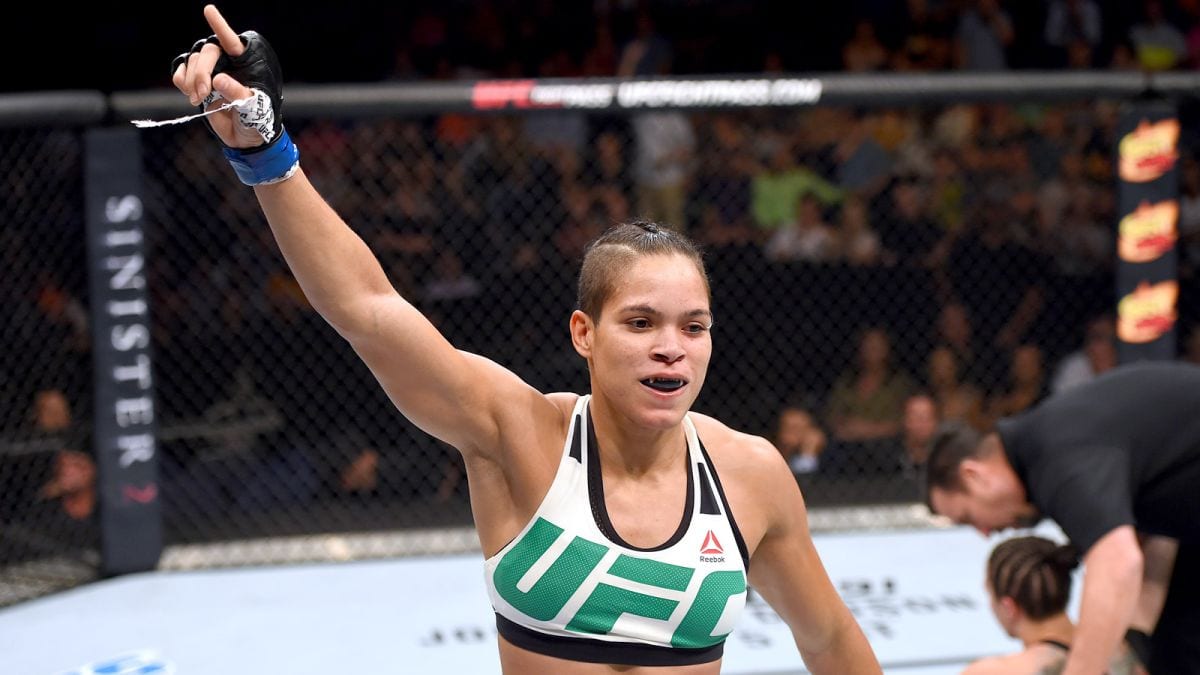 Not many people are willing to accept a fight with Cris Cyborg. Fewer still actively seek one out. But, in the wake of Cyborg's victory at UFC 219, UFC women's bantamweight champion Amanda Nunes is doing just that.
It may just make Nunes the first, high profile fighter to call for a bout with the devastating 145-pound champion. As such, it gives her an enormous amount of street credibility. Prior to Cyborg's bout with Holly Holm in December, Nunes' team had suggested she'd be interested in meeting the winner — although most fans took that to mean if Holm emerged victorious.
According to one of Nunes' coach, Din Thomas, it was never a pick and choose type of situation. Nunes said she wanted to fight the winner, and that's exactly what she wants to do.
First of all, I have nothing personal against @criscyborg I do believe it is the fight that everyone wants to see and a fight where we can both leave our marks on this sport.

— Amanda Nunes (@Amanda_Leoa) January 6, 2018
"For the longest time, everybody's been saying that Amanda didn't want to fight Cyborg," Thomas said, speaking on his 'Morning Wood Show' podcast with Tyron Woodley. "I don't really know how that rumor got started but everybody thought that, but I was hanging out with Amanda two weeks ago and I was at her crib and she was like 'hey, I want to fight Cyborg. I hope she wins'.
"It wasn't on no beef, she was just like 'I want to fight whoever wins.' I was like 'you want to fight Cyborg?' and she said 'yeah I want to fight Cyborg. I don't see what the threat is.' That's what she was telling me.
"For her to want that fight, I was like, hell yeah, let's get this fight. She doesn't see the threat that everybody thought was there for her. She doesn't see it and I love that about Amanda when it comes to this fight. I think she presents way more problems than people think that she can give Cyborg."
It's true that Nunes could offer Cyborg issues that few have before. While Cyborg is often regarded as a strong power-puncher, Nunes has the very same reputation. Holm may have had challenges for Cyborg technically, but Nunes could well meet her punch for punch — something not many have been able to do before.
For Thomas, he looks at Cyborg vs. Tonya Evinger as evidence there is a path to beat Cyborg as long as you can survive the pressure she brings into the cage.
"She smashed her but Tonya hung in there," Thomas said. "She hung in there. She took a lot of punishment too but she hung in there. But even at that moment I was like, You know what? Amanda would have done a lot better. Now I'm thinking, you know what? I think Amanda's gonna kick her ass. I'm looking forward to it.
"Cyborg doesn't have anyone else to fight really that anyone is gonna really care about."
Comments
comments