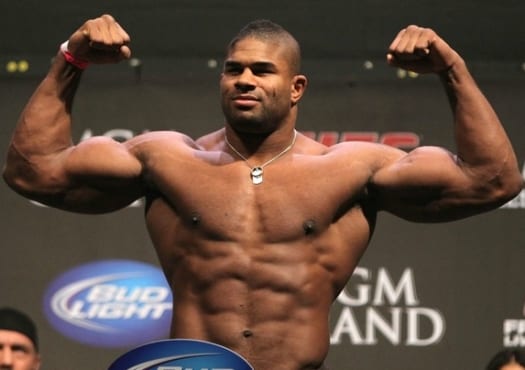 When it emerged that Francis Ngannou had set himself a record on a UFC striking strength test machine, most were impressed by the sheer power of the up and coming heavyweight. His UFC 218 opponent Alistair Overeem, however, was not.
Speaking about the accomplishment at the UFC 218 open workouts in Detroit, today, the former heavyweight contender gave a flippant reply when asked if Ngannou's supposed prowess would make Overeem want a knockout win even more.
"That's just.. you know, fake news stuff," Overeem said. "That's just whatever. He's got the hardest punching power, because I didn't punch that fucking machine."
But, while Overeem might be cutting a dismissive figure at Ngannou's records, he doesn't deny the rising star of Ngannou himself.
"He definitely deserves this fight," Overeem said. "The guy looks like a beast. He's on a nine-fight winning streak. He's doing great, he looks great. He looks awesome. You can see what he's done with the competition. He's got that one-punch power. He does deserve to be here, and it's going to be a very exciting fight. I'm in the best shape of my life."
The two clash in the co-main event of this weekend's UFC 218, in Detroit, Michigan.
–
Comments
comments