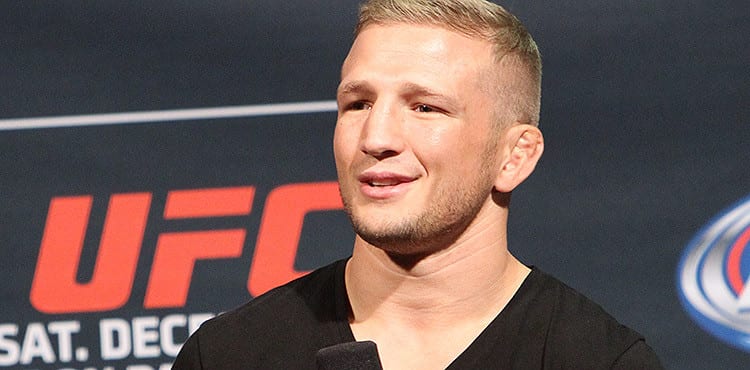 If you didn't think the rivalry between Cody Garbrandt and T.J. Dillashaw was personal enough yet, Dillashaw just upped the levels for you.
A few days ago the champion Garbrandt posted a video to Instagram to taunt Dillashaw regarding rumoured sparring footage that resulted in Dillashaw being rendered unconscious, and amongst reports he has been offered $50,000 by TMZ.com, told Dillashaw to pick a charity for the fee to be donated to.
"Hey Dillashaw, let's put an end to all this," Garbrandt said in the post. "I'm going to go out and get as much money as I can for the video of me knocking you out, how about you pick a charity that you want to support, and I'll donate 100% of the proceeds to that charity."
Well, funny you should ask, but Dillashaw has an idea.
"The charity should be something with kids without fathers so they don't grow up to act like Cody," he said, speaking on the UFC Unfiltered podcast.
"They can do whatever they want with the practice room. Because we all know how it went down. I could care less."
And that's not the only issue that the former bantamweight champion wanted to address. His former mentor and coach Urijah Faber recently ruffled some feathers after the first episode of The Ultimate Fighter 25 was aired, taking to Instagram to mock Dillashaw for leaving Faber's gym Team Alpha Male.
"Sad to see my former friend [Dillashaw] lie about me on national television to save his reputation," Faber posted. "He knows there was no ultimatum, he got lured by money. … Thank u (sic) [Conor McGregor] for seeing the future."
Unsurprisingly, Dillashaw disagrees with that narrative.
"Just because I was getting sponsored by Musclepharm didn't mean I was going to move my entire life to Denver," Dillashaw said. "That's a bold face lie and he knows it. … I told him 'look man, my next camp I'm going to do my full camp in Denver' and that's when he kinda flipped the lid. I think it was a way of him trying to create drama to try and get a title fight, and I had the belt at the time. Really he's just being a bold faced liar because I took him to lunch and told him about it. He's the one who gave me the ultimatum.
"I left the gym in tears, man. When he gave me the ultimatum I was coming in to watch practises because I wasn't allowed to practise — he said I wasn't allowed to do that anymore either — he full on just kicked me out of the gym. He can say whatever he wants, he knows what the truth is, I know what the truth is. All the guys saw me leaving. It wasn't something that I wanted, I didn't choose this.
"It makes me sad, man. I had friends I thought I was going to have for life."
—
Comments
comments