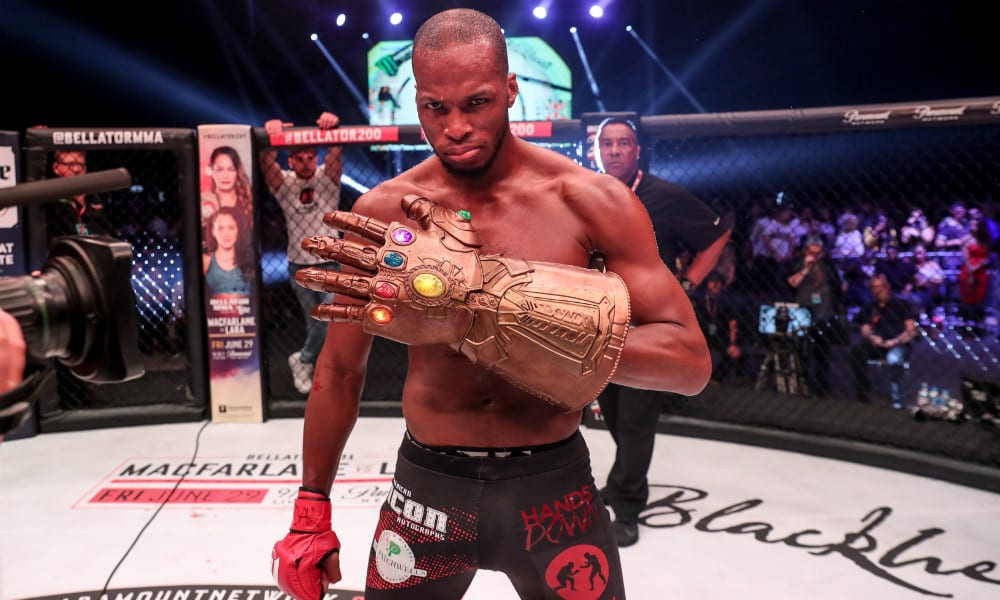 Bellator MMA welterweight star Michael 'Venom' Page scored a thumping one-punch knockout on his return to professional boxing on Friday night.
Page was a featured attraction at the Hayemaker-Ringstar event at the iconic York Hall in Bethnal Green, London, where he faced Dutch light-heavyweight Michal Ciach in a bout aired live on UK TV channel Dave.
Fans familiar with Page's in-cage antics weren't disappointed, as the Londoner showcased his usual unorthodox fighting style, complete with glances to the camera and gasps of "Ooooh!" when big shots didn't quite land clean.
The contest was barely competitive, as Ciach (1-5 as a pro boxer) offered little opposition to Page, who towered over the Dutchman and dominated the contest from start to finish.
And, after bamboozling Ciach throughout the opening round, Page decided to load up with the very first punch of the second round, knocking out his opponent and scoring a highlight-reel finish.
"I absolutely loved it," he said after the bout.
"It's difficult working with two promotions and my commitment is to MMA but I love combat, and boxing is a major part of combat. So I'm glad to be back."
David Haye waxed lyrical on Page's potential inside the squared circle, saying: "I haven't seen boxers throw these types of punches with that amount of power from the angles that he throws it. I said before the fight, I've seen him do things to world-class, current world champions.
"This was five or 10 per cent of what I know he can do. And the higher the level of opponent, the more magic you'll see."
Despite his foray into pro boxing, Page confirmed that his main commitments lie in the sport of MMA, though he's still keen to pursue boxing as a busman's holiday between MMA bouts.
"Obviously it's difficult. I'll have to have the right conversations," he said.
"I'd like to try to get a few more boxing fights in. What I'm going to find difficult at the moment is people know who I am from my MMA and my record over there, so it's going to be difficult to call out some of the more 'name' fighters. So I need to build a record up, and that's what I'm trying to do here."
It seems he'll have no issues on the boxing side of things, with Haye making it clear that there will always be a home for 'MVP' on his shows.
"I love having him on my shows," he enthused.
"I know the viewers love to see him. I get so many emails about wanting to see MVP. They're so happy that he's here on the full show.
"As often as you can fight on my shows, please do! Because everybody in here was like: 'What is this guy doing?'"
And Haye, who announced his own retirement from boxing last week, said the sky is the limit for Page, whose unique fighting style could take him all the way to the top.
"He knocks people out with punches that nobody sees coming," he said.
"The second-round punch that knocked the guy out – I didn't know it was coming. No-one could see it coming, particularly the guy laying on the floor.
"I truly believe he has the most unorthodox style of any fighter on the planet," he continued.
"I've seen him take big shots from heavyweights. I've seen him spar guys who are smaller. He's got the speed, he's got the angles, he's got a great coach and a great team at London Shootfighters. Their boxing facilities are perfect. He gets great sparring.
"He has all the tools around him to go the whole way. This is all about him flourishing naturally."
Comments
comments