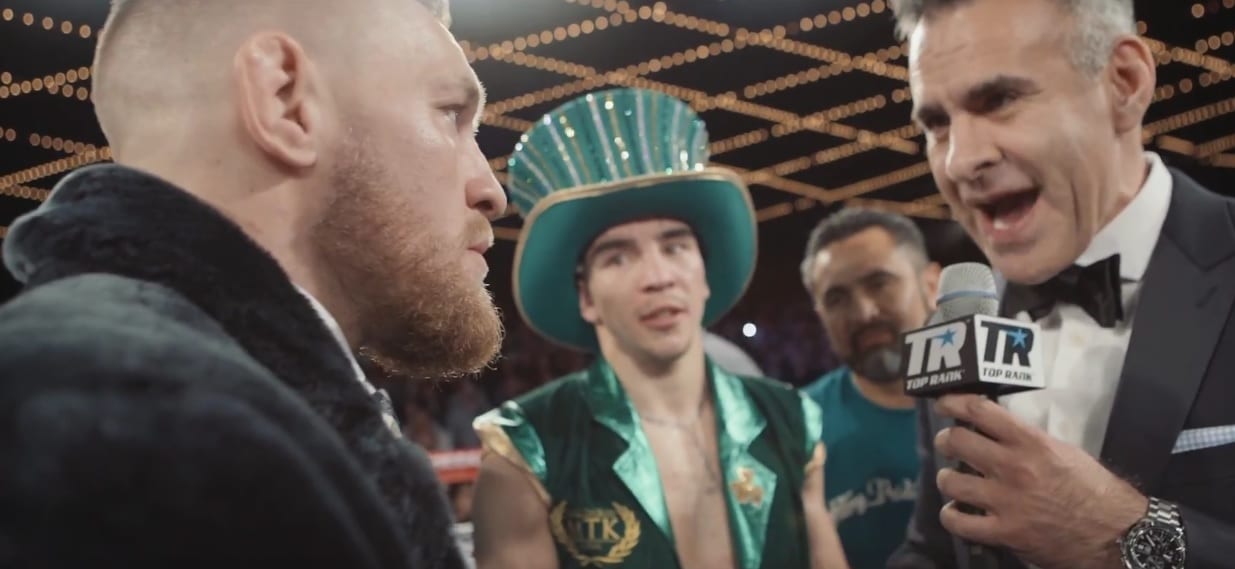 A place on the undercard for the Aug. 26th clash between Conor McGregor and Floyd Mayweather is being coveted by a cabal of boxing's biggest names. Anthony Joshua and Roy Jones Jr. are just two who have publicly flirted with the idea of what will likely (and easily) be the biggest boxing card of 2017 — and another fighter who wants a piece of the pie is McGregor's friend and former world amateur champion Michael Conlan.
As Michael Conlan prepares for his third professional boxing bout this weekend in Australian on the undercard of the Manny Pacquiao vs. Jeff Horn bout, Conlan has revealed how he has asked McGregor to try and get him a spot on the undercard, though his affiliation with Top Rank may scupper any such deal from being made.
As for the fight itself, Conlan says that he is looking forward to every element of it.
"He's never going to win a talking shit match with Conor McGregor," Conlan said of Mayweather to iFL.TV. "Conor McGregor is on a different level when it comes to that — and that affects people. It's hard to see how it goes because Floyd is almost unbeatable, well he has been unbeatable. Conor is Conor, so he's going to come out and give it his all.
"I'm excited, I wished him good luck. I asked him to try and get me on the show but I haven't heard back, so I don't think it's going to happen!"
As for his own career, Conlan approaches his bout with the 5-4 Jarrett Owen as a massive favourite. The Belfast man has experienced little trouble in his first two professional outings against Tim Ibarra and Alfredo Chanez and a third win this weekend should begin to set him up for bouts with higher calibre opponents.
For now, though, it's time to enjoy the occasion.
"Chill out, taper off now [and] start to focus in on the job," Conlan says as to his preparation ahead of the July 2nd bout. "We've a big arena ahead here. Just look forward to fight week, enjoy it. It's great seeing Filipinos in this hotel. Manny's entourage is huge! It's great to be here, it's a fantastic atmosphere to be around because I'm on my third fight and I'm fighting on Manny Pacquiao's undercard as one of the co-features.
"It's going to be a special night and I'm looking forward to it."
Comments
comments