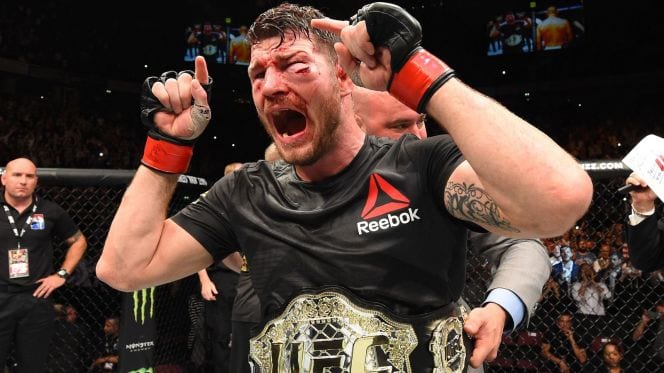 It's become particularly in vogue lately for mixed martial artists to flirt with the idea of taking on a professional boxer — and it's easy to understand why.
Conor McGregor will enjoy the biggest payday of his professional career when he steps into the ring with Floyd Mayweather in Las Vegas next weekend and, much like how several of his UFC peers have attempted to adopt the Irishman's bombastic style of fight promotion, many an MMA fighter have now begun to entertain the idea of taking on a challenge inside a boxing ring.
In addition to McGregor vs. Mayweather, the likes of Stipe Miocic, Junior Dos Santos and Jimi Manuwa have openly flirted with the idea of a boxing payday and the latest big-name to follow suit is current UFC middleweight champion Michael Bisping, who has set his sights on fellow Brit Tony Bellew.
Bellew, who defeated David Haye earlier this year, claims to have experience in kickboxing and grappling and says he would be open to a bout between the two taking place either in the squared circle or the octagon — just don't ask him to fight Jon Jones.
"I can wrestle, I can grapple, I punch hard, I can kick and I've got some kickboxing experience," Bellew said in a recent interview with Sky Sports.
"You can forget about me getting in the cage with Jon Jones – not a chance. But if you're asking if I would get in the cage with a puncher in the UFC? Mike Bisping is a guy who is predominantly known as a puncher and he's a very strong wrestler as well.
"I think I could get down to 185-pounds. If the money is right, then Tony Bellew would happily enter a cage or a ring. Maybe let's do one of them each. I'm a Michael Bisping fan, but if the money was right then the fan stuff goes out the window."
All good Tony. People twist things. But for the record, after gsp, I'm down to have a boxing match with you 100 percent. 👊

— michael (@bisping) August 15, 2017
That's the plan. Wipe the floor with gsp, take out dopey Bollocks from oz then I'll box with bellew.

— michael (@bisping) August 16, 2017
Bisping is currently slated to defend his UFC middleweight championship opposite Georges St-Pierre in Madison Square Garden in November. The winner of that bout is expected to face interim 185-pound titleholder Robert Whittaker to unite the titles and Bisping says that once his work is done in dispatching his division's top contenders, he will shift his focus to Bellew.
Bellew (29-2-1) is a former WBC cruiserweight champion and a three-time former ABA heavyweight champion. In addition to his in-ring career, Bellew also appeared as the main antagonist 'Pretty' Ricky Conlan in the Rocky spinoff 'Creed'.
Comments
comments