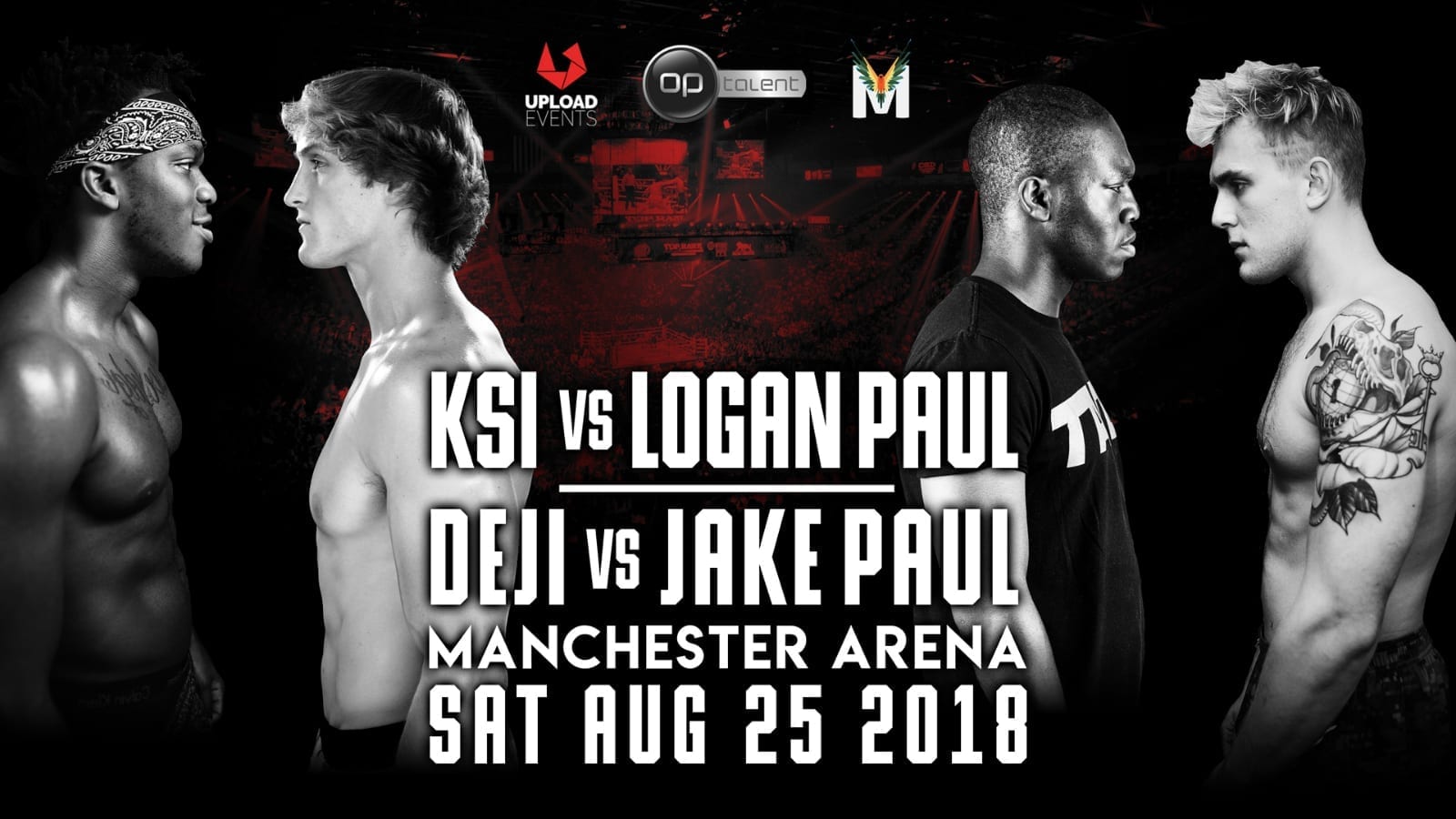 On Saturday, August 25, a huge boxing match, KSI vs Logan Paul, will take place at the 20,000-seat Manchester Arena.
Tickets are virtually sold out, the buzz ahead of the fight is off the charts and the sheer amount of internet traffic being generated around the fight outstrips virtually anything you can think of, with the possible exception of Mayweather vs McGregor.
But this isn't a regular boxing match. It's not a superfight. And it's not even a bona-fide professional boxing match at all. It's a white-collar, amateur boxing match, and it features two combatants who aren't professional fighters.
So why is KSI vs Logan Paul being dubbed the biggest event in internet history?
Here's everything you need to know…
Who's fighting?
Brit Olajide 'JJ' Olatunji – known to the world as KSI – and American Logan Paul are two hugely popular YouTubers whose combined subscriber base tops 26 million.
Paul (17.9million subscribers) started out as one of the biggest stars of the now-defunct mini-video platform Vine, but has transitioned to YouTube and become one of the most controversial figures in the YouTube creator community.
His daily vlogs have seen him do a plethora of wild and wacky stunts and pranks but he faced a global backlash after filming himself and his friends as they visited Japan's Aokigahara Forest, a region known as a notorious suicide spot.
Paul filmed a dead body discovered in the woods, and received a massive backlash for his actions, with 200,000 people signing a petition to get him banned from YouTube.
Now back on the platform after apologising and vowing to turn over a new leaf, Paul remains a polarising figure in the YouTube community, in the eyes of both the fans and fellow creators.
KSI (19million subscribers) started out as a gaming YouTuber, but his soaring popularity has seen him break out of that mould and become one of the biggest personalities on the platform.
He's released rap singles, worked with a host of stars, made countless public appearances and is now a one of the world's biggest internet stars.
As well as boxing, KSI is also a UFC fan and he recently he took part in an EA Sports UFC live stream event with UFC president Dana White and former world champions Michael Bisping, Chris Weidman and Matt Serra.
Why are they fighting?
KSI took on fellow British YouTuber Joe Weller in a boxing match in February this year at London's Copper Box Arena, winning by third-round TKO, and later called out Paul and his younger brother Jake for a bout.
Paul answered the call-out and a heated rivalry ensued with the pair trading jibes in a series of videos posted from their respective channels.
Now the pair are locked in and ready to go having agreed a two-fight deal, with the first matchup taking place in Manchester, England, and the return bout set to take place in the United States.
With their bout on August 25 being for the 'YBC' title, a symbolic YouTube Boxing Championship created when KSI fought Weller earlier in the year.
And the rivalry has an additional angle with the presence of KSI's and Paul's brothers Deji and Jake, who will go head to head in the night's co-main event in a bout that appears to have every bit as much rivalry as the headline fight.
Who else is on the fight card?
The fight card for the Manchester Arena event features eight bouts, each featuring a matchup between two YouTube creators. The fight card in total features YouTubers with a combined subscriber base of 77.8million fans.
KSI (19m subs) vs Logan Paul (17m subs)
Deji AKA ComedyShortsGamer (9.4m) vs Jake Paul (16m subs)
Halal Ham (56k subs) vs Jrizzy Jeremy (648k subs)
MOMO (1.4m subs) vs RossiHD (729k subs)
JMX (2.5m subs) vs Coach Richard (12k subs)
FaZe Sensei (569k subs) vs Overtflow (471k subs)
RackaRacka (4.7m subs) vs Scarce (2.9m subs)
AnEsonGib (1.4m subs) vs Jay Swingler (1.1m subs)
How big is this event, really?
If you're talking about the event's potential audience, it's pretty darned big.
KSI and Paul have a combined 26 million YouTube subscribers, while the fight card in total features YouTubers with a combined subscriber base of 77.8 million fans, so the potential audience for this event is immense. And if the recent set-piece press conferences in LA and London recently are anything to go by, the hype around this fight is off the charts.
Remember the chaotic scenes when Conor McGregor and Floyd Mayweather went on their press conference world tour? This wasn't too far off it.
The man tasked with the unenviable (nay, impossible) job of moderating the London press conference at the York Hall was another hugely popular YouTuber, True Geordie, who gave a warts-and-all take on the chaos in his recent recap video.
Why should I watch?
If you're a connoisseur of combat sports who is only interested in watching the world's very best fighters in action, this one might not be for you.
But if you enjoy being a part of a big event and watching a bout where there seems to be genuine bad blood between the participants, this could be right up your alley.
The fighting ability of the various YouTubers is likely to be varied at best, but with the sheer amount of attention these personalities attract online, the atmosphere inside the Manchester Arena should be a memorable one as one of the UK's biggest YouTubers takes on one of the most notorious online stars from the United States.
How can I watch?
Rather appropriately given the participants involved, the fight will be streamed live via YouTube pay-per-view. At the time of writing the PPV stream can be purchased for £7.50.
You can subscribe, purchase the PPV and set up a reminder alert at https://www.youtube.com/watch?v=aXzQl-Mv6-Q.
Comments
comments