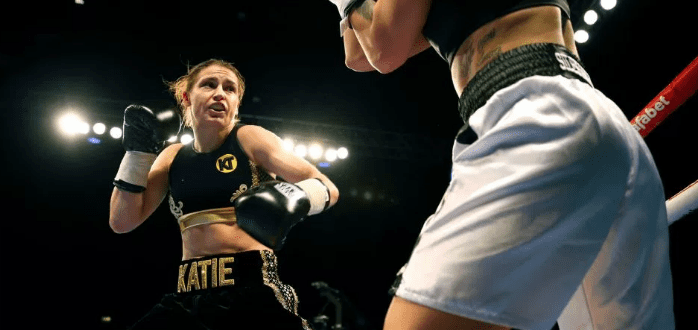 Katie Taylor secured the fourth win of her professional boxing career on Saturday night. The Bray woman outpointed former world title challenger Milena Koleva over eight rounds in the super featherweight division, furthering her claim for world title contention of her own before 2017 is out.
Taylor was in control throughout the contest and floored her opponent late in the fight before ultimately claiming the contest on points.
Afterwards, Taylor praised Koleva for the challenge she presented.
"I definitely needed the eight rounds and it was a great contest against a very strong opponent," said Taylor of her opponent who was generally considered to be a step up in competition from the opponents she faced in her first three bouts.
British boxer Tony Bellew, winner of one of the 2017's strangest bouts when he faced David Haye recently, was full of praise for the Irishwoman's performance.
"I am a Katie Taylor fan", Bellew said to Sky Sports. "She's an absolute class act with the punches she throws and the variety in her shots. She is just the full package. She is a breath of fresh air and she is fantastic for the sport.
"She's not in it for the short haul she's in it for the long game, and when I see her, I'm looking at the Anthony Joshua of her weight division. She's going to be running this game real soon, she really is.
"She will become the face [of women's boxing] something like what we've seen with someone like Ronda Rousey in the UFC, but I think Ronda Rousey has done it over a short period.
"I believe someone like Katie Taylor is here for the long-haul. It's going to take somebody very, very special to dethrone her."
Comments
comments