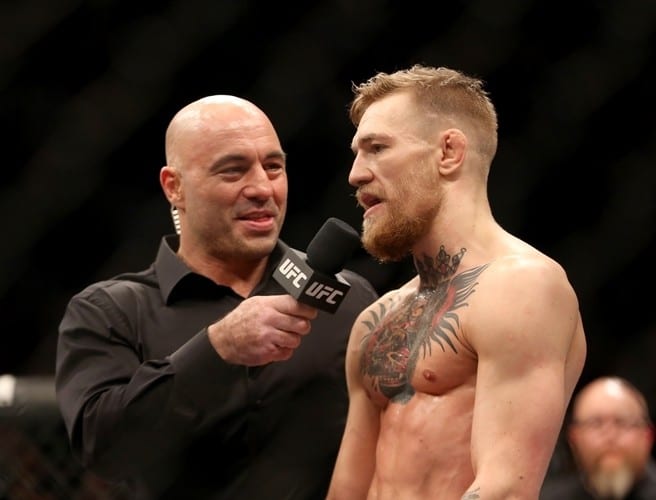 There aren't many people on the face of the earth that know more about mixed martial arts and its fighters than Joe Rogan. As part of his long-standing commentary gig with the UFC, Rogan has called thousands of fights and witnessed first-hand just about every type of competitor and style of martial arts ever seen in the UFC.
And, according to him, no one has ever stood out more than Conor McGregor.
Speaking to journalist and MMA fighter Mike Sheridan at entertainment.ie, Rogan elaborated on just how highly he rates the Dubliner.
"Well, Conor's a special human; there's not a lot of humans that come along in anyone's generation that has that kind of impact in any sport", Rogan said. "And it's not just because of his ability to fight; it's because of his mind, his charisma, his ability to articulate things. And also his ability to rise to the occasion when it matters most, like the Jose Aldo fight and the second fight with Nate Diaz.
"I mean he's a special person and special people can move the needle in a way that no one else can. It takes a guy like Conor McGregor to sort of light the fires of people's interests. You're getting people who watch MMA specifically because of Conor McGregor; they might not know any of the other fighters, but they know who this fucking crazy Irishman is."
McGregor's critics, of whom there will always be many as long as he is at the top of the sport, have consistently criticised the Irishman throughout his UFC tenure. There have been claims that he was received favourable match-ups, or he is only getting promoted because he can 'talk' and not necessarily because of his athletic endeavours.
Rogan disagrees. McGregor, he says, is a once-in-a-lifetime type of fighter whose knowledge of fight promotion works in tandem with the skills he displays inside the cage.
"You either have that or you don't and Conor has it like no one I've ever seen. But all of that would mean nothing if he didn't have the courage to take that Nate Diaz rematch and at the same weight", Rogan explained.
"That win over Jose Aldo for the Featherweight title is the most spectacular win for a title in the history of the sport. Not just the fact that it was 13 seconds. He had fucked his mind up so hard, from the trash talking and mindfucking and stealing his belt at the press conference… he's such a presence. By the time Aldo got in that cage he was fucked he looked so nervous and overwhelmed by the pressure of it and Conor fought perfectly. He was so loose and so relaxed and slid backward out of the range of Aldo's attack and just planted that left hand on him. It was a flawless victory, literally a flawless victory.
"Conor McGregor is a special human being; he has the power to inspire people all over the world; to motivate someone to change their life for the better."
Comments
comments