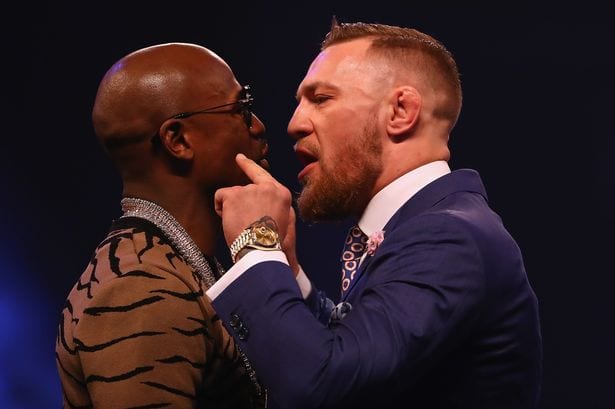 For a while, Floyd Mayweather found great enjoyment in suggesting he'd be open to strapping on 4oz gloves and stepping into a mixed martial arts cage and fighting under the appropriate rules.
Finally, it seems, the undefeated boxer is done with pretending.
At a media day to promote his upcoming exhibition show with Tenshin Nasukawa — an exhibition Floyd made sure to make clear had no real importance — Mayweather was once again asked if he had any intentions of fighting Conor McGregor or Khabib Nurmagomedov.
Sure, he said. As long as it's under his terms and boxing rules.
"Conor and Khabib are still bringing me up because like I said before, I'm the face of combat sports period, whether it's boxing or MMA, I'm the face of it all," Mayweather said. "I'm not worried about them guys, Conor McGregor he already know what happened, he ran his mouth – I took care of that. Khabib running his mouth. If he wants to get in there, I'll take care of him too."
"Everything is always on my terms, I'm the 'A' side, always," Mayweather continued. I'm not going to fight in the MMA ring. If I do fight in the MMA ring – boxing only, everything is my rules, my way, I worked hard to put myself in the position that I call all the shots.
"I'm not a fucking degenerate, I'm not going to go into nobody's cage and do what they do, if that's the case I would've done that from the beginning. If anybody wants to compete against me or fight against me, it's in a boxing ring."
Comments
comments