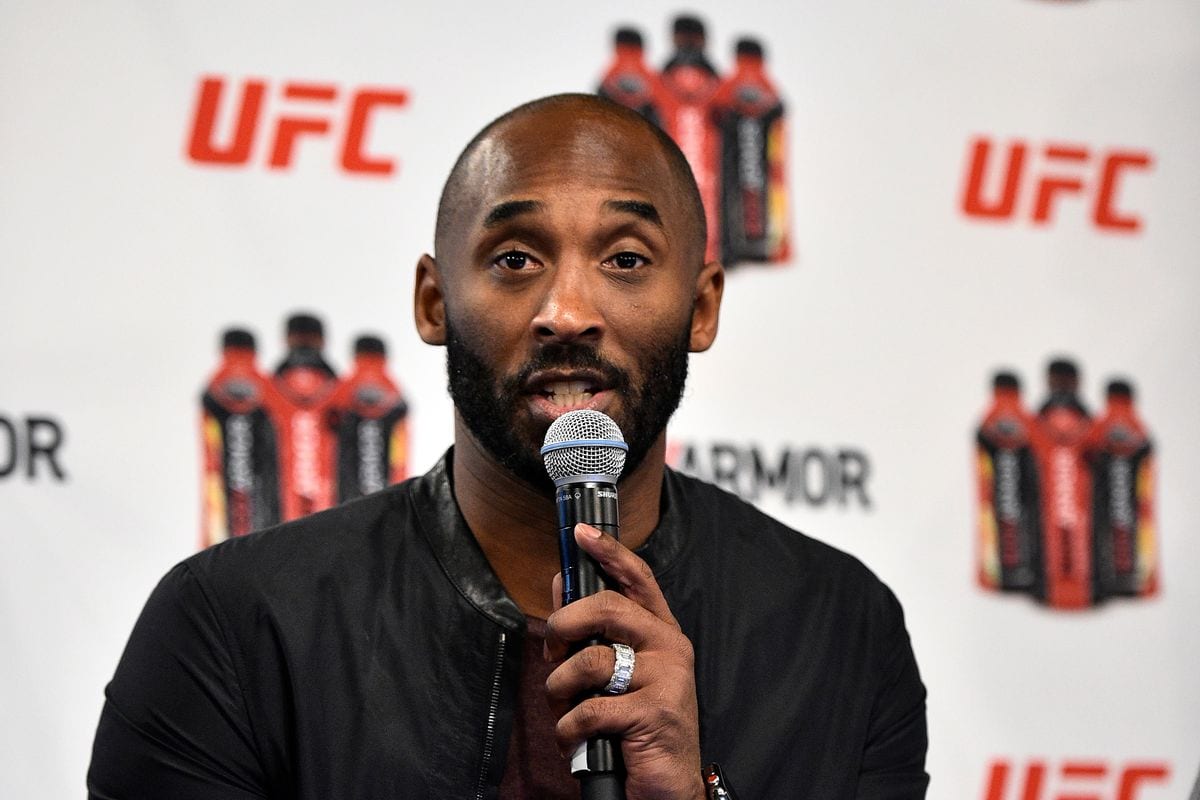 Kobe Bryant was a man who transcended his own field.
One of the best basketball players of all time, the man known as 'Mamba' inspired plenty of men and women off the court. His winning mentality, and his never give up attitude meant Bryant will go down in history as a sporting legend. Bryant's death today, a tragedy where he and his daughter both lost their lives in a helicopter crash, has sent a huge shockwave all across the world.
Perhaps unsurprisingly, Bryant has had a huge impact on the athletes who currently compete in mixed martial arts, even appearing at a fighter retreat in 2017, where he gave a talk to those on the roster on how best to use their position.
What follows are a number of the tributes sent out to Bryant and his family from the UFC roster.
Conor McGregor on the death of NBA legend Kobe Bryant: "It's iconic that I'm here and that he used to play in this arena… I'm very happy to be here but sad at the same time. It's just a very sad time." — @TheNotoriousMMA #GRAMMYs pic.twitter.com/IJDRtIgFXB

— Conor McGregor News (@ConormcGregor5) January 27, 2020
Thank you for choosing me KB. Thank you for trusting me with this show that meant so much to you. It was your brainchild. We will honor you with every episode. You were just the best, and getting to know you is something I'll never forget. #ripmamba pic.twitter.com/w1qGZ2gNxm

— Daniel Cormier (@dc_mma) January 27, 2020
Like many fans around the world I didn't get the chance to actually meet Kobe. But when things got difficult for me, choosing to work harder in the dark, choosing to try to be better today than yesterday, choosing Mamba mentality, https://t.co/HRXe1VTIrK

— Max Holloway (@BlessedMMA) January 27, 2020
those are the things my team and I talked about most and actually adopted. He had every damn scoring record you could want but I'm most grateful to him for those assists to my life.

— Max Holloway (@BlessedMMA) January 27, 2020
RIP 😔 pic.twitter.com/2WltryiF2W

— Dana White (@danawhite) January 26, 2020
Just sad man…
Woke up to the news and it's sad az.

— Israel Adesanya (@stylebender) January 26, 2020
One of the greatest athletes of all time . RIP KOBE BRYANT 😢 🙏🏾 pic.twitter.com/iAk0vdR98B

— Derek Brunson (@DerekBrunson) January 26, 2020
Can't believe what I just heard. My heart is broken. God bless his family. @kobebryant

— glover teixeira (@gloverteixeira) January 26, 2020
OMG KOBE !!! 💔

— JIMI MANUWA (@POSTERBOYJM) January 26, 2020
RIP Kobe Bryant 🙏🏽

— Alistair Overeem (@Alistairovereem) January 26, 2020
Shocked. Rest in paradise @kobebryant. Thank you for all you have done for athletes and everyone in the world's communities. You are a legend. Sending love from the Miocic family on this unthinkable day. God bless. #SM

— Stipe Miocic (@stipemiocic) January 26, 2020
Man, Tragic knews to wake up to. Prayers and condolences to family🙏
RIP Kobe & Gianna

— Alex Volkanovski (@alexvolkanovski) January 26, 2020
–
Comments
comments